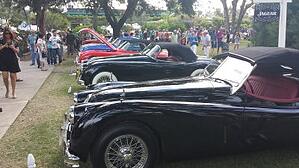 If you're partial to classic and performance cars (and you've been a blog subscriber for more than a few months), you may remember our summary of getting involved with the Concours D'Elegance car shows in Winter Park and Amelia Island, Florida. Well, that time is rolling around, and the Winter Park show is not that far away. We will, of course, be there again.
The Winter Park show had over 80,000 people in attendance over several days. Almost any kind of historic and exotic car you can think of was on display. Old Indy car enthusiasts were wowed by the McLaren display which showed both the new models along with the actual McLaren Indy cars driven by Johnny Rutherford and others in the Indy 500 in the late 1970s.
Vintage car enthusiasts got to see rare models like the 1910 Oakland Roadster – only two in existence on the planet. And a 1930s model Bugati. And horseless carriages still in operational condition, some older than Bell Performance itself. And that's saying something, since we started in 1909.
And we were really happy to see Tesla on display with its ground-breaking Model S – the first all-electric car to receive Consumer Reports' top new car rating for quality. Sounds like they know what they are doing.
So if you're in Central Florida in November, check your calendar to see when the Winter Park Concours D'Elegance is going on. They'll close down the main street (Park Avenue) and you can come for free and take a step back in history. Go talk to the car owners, ask them about their sweet rides. Most of them are really happy to talk about their prize autos. For everyone else who can't make it, we'll be streaming pictures and updates from the Show. If it's anything like last year, there's going to be plenty of awesome auto photo opportunities to be had.
Finally, if you're going to be at the Concours, be sure to stop by and see us. We'll be there.
This post was published on November 11, 2014 and was updated on October 18, 2018.