Now in its second decade, the Amelia Island Concours d'Elegance is among the top automotive events in the world.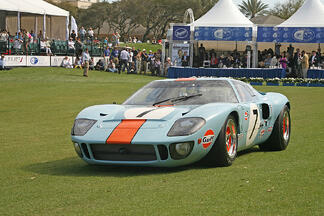 The event is typically held on the second weekend of March, bringing together over 300 rare vehicles from collections around the world to The Golf Club of Amelia Island at Summer Beach and The Ritz-Carlton.
Each year, "The Amelia" raises donations for a variety of charities along Florida's coast. Since 1996, the show's Foundation has donated $2 million to Community Hospice of Northeast Florida, Inc. and other deserving charities.
The concours is about celebrating the people who have made the motoring industry what it is today.
Are you attending the Amelia Island Concours d'Elegance? Here's a short video explaining the history and significance of the concours.
Car collector Bill Warner, a photographer and writer for Road & Track Magazine; founded the Amelia Island Concours in 1996.
What is a Concours d'Elegance?
A Concours d'Elegance in a sense is a beauty pageant for rare and elegant cars.
Each entry is rated for authenticity, function, history, style and quality of restoration by a team of judges that includes specialists for each car type. A perfect score is 100, but any imperfection, no matter how slight, requires a fractional point deduction.
Awards are given to first, second, and third place finishers for each class (classes are arranged by type, marque, coachbuilder, country of origin, or time period) in the event, and the judges confer the "Best of Show" award to one car from the group of first place winners.
In addition, a group of honorary judges — typically individuals who have made significant contributions to the automotive industry or motor sports — give subjective awards to recognize standout vehicles regardless of class ribbons, as well as memorial awards created to honor automotive industry personages.
Why Bell is Attending the Amelia Island Concours 2014
The Amelia Island Concours d'Elegance, is a premier event for rare and classic car owners and enthusiasts. This is a great event for members of the Bell Performance Team to interact and forge relationships with other individuals that are interested in not only showcasing their classic car but how they can maintain and protect their car from modern day ethanol fuel problems.
Past Glory – Amelia Island Concours 2012
This post was published on February 26, 2014 and was updated on April 15, 2021.