Bell Performance's founder Robert J. Bell invented the first fuel additive in 1909. In 1927, he figured out how to make gasoline and water combine (through development of a surfactant technology) in order to create a new multi-function gasoline treatment that he called MIX-I-GO.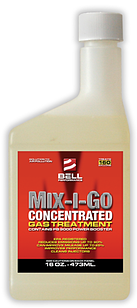 Given the 90 years that Mix-I-Go has been on the market, satisfied customers never seem shy about telling us what they like about it.
We got a recent testimonial on one of our web platforms about Mix-I-Go that they gave us permission to share.
"I used Mix-I-Go in my 2001 Tahoe for over 15 years. Never had any engine problems and at 120,000 miles still had the original plugs. Just bought a 2016 Tahoe and am getting 27.5 mpg on the highway using the product. Mix-I-Go when added regularly has provided me with many trouble free miles with a noticeable increase in mileage!"
Thanks! Another satisfied customer for Mix-I-Go!