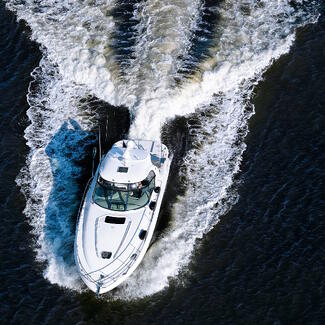 So you're thinking of buying a used boat? The first thing you need to take into consideration is how much work a boat is.
If you think your car is a lot to maintain, multiply that by 10 - that's how much tender love and care you'll need to spend with your boat.
Noting this, it should come as no surprise that there are certain things you need to be looking for when purchasing a used boat. Here's an overview of things you should be aware of:
The Engine
The engine is the most important thing to inspect when you're shopping for a used boat. Check to make sure it's clean. If it's not, there's a good chance the previous owner didn't take very good care of it.
Make sure to look for deposits, gunk and grime. Not only does this give further evidence to engine neglect, but it also could be evidence of ethanol contamination wreaking its havoc on the gas-powered engine. Most fuels today consist of some amount of ethanol concentration, and a lot of boat engines aren't designed to run on this type of fuel. Many boat owners try their best to use non-ethanol marine fuels, but it may not always be possible to source that. A good boat owner will administer a fuel additive to mitigate any ethanol problems caused by the fuel.
It's also useful to check the oil quality, the steering cables and (if applicable) to make sure that the bilge pump works.
Exterior
Next in the line of importance is the boat's exterior. Visually inspect the boat and make sure that it looks in good shape. Look for damage or any signs that a repair to the exterior was made. Any damage to the hull or other parts of the boat can be detrimental to regular operations.
Interview the Prior Owner
In addition to visually inspecting the boat, be sure to ask the seller lots of questions. Has the boat ever had any major repair work done? Has it ever been in an accident? How old is the motor? What type of fuel does it take? Have there ever been any issues with it?
The more you know about the boat and its history, the better off you are when deciding whether it would be a wise purchase or not.
As we mentioned in the opening, owning a boat is like a labor of love – they demand a lot of attention, so it's important that you get off on the right foot by purchasing a quality used model.
You may be interested in the related posts:
This post was published on May 14, 2014 and was updated on June 2, 2014.