Up till today, the trend among automakers has been bigger and better whistles in each new car model. The assumption is that drivers are used to accessing technology in every part of their lives, so they are now expecting to be just as plugged in in their vehicles. But recent surveys hint that this assumption about new car tech might be causing manufacturers to go overboard.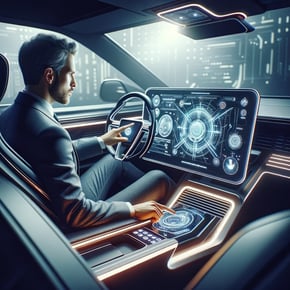 "Infotainment" seems to have become a contest among car manufacturers, each one racing to see which can claim to cram the most features into their newest models. Consumers, meanwhile, don't seem to be that impressed.
Polling giant Nielsen recently published the results of an online survey covering over 14,000 car owners. The respondents were asked to rate various car features on how much they liked that and how "satisfied" they were that they had them. The survey covered 42 of the most popular features. This is the kind of survey that Nielsen does on a regular basis, and automobile companies pay close attention to what the market is telling them in places like this.
Back in November, Nielsen did a survey gauging consumer interest in various features, asking consumers what features they would like to see in their next car. Years of similar surveys have told car makers that consumers want things like in-dash internet-enabled navigation, automatic crash notification, and vehicle repair diagnostics. Those were the three highest scoring features in Nielsen's November 2014 survey. Consumers also like hybrid engines and back-up cameras. Put those on a vehicle, and car buyers are likely to pay attention.
On the other hand, consumers might be hinting that there's only so much tech they can gravitate towards. Nielsen surveyed these consumers in April and May of 2015. They found that when consumers scored the features, the 10 lowest ranking add-ons were all "infotainment"-related.
The bottom of the list? Voice recognition.
That seems surprising, given the popularity of voice cognition with smart phones. The problem seems to be that automakers haven't been able to get VR right. The whole point of voice recognition software is to make tasks easier. You talk into your phone and say 'navigate to Jerry's Pizza' and it does everything for you. The voice recognition features available up to this point have not worked very well, if at all. So consumers rate them pretty low on the scale.
Other cool-sounding features that consumers haven't been impressed with were in-car hard drives for storing music and subscription concierge services. They don't like concierge services because they have to pay extra for them, so very few drivers keep the subscription going after the free trial ends that came with the purchase of the car. And people already have all their music stored on their phones, so they don't need to transfer it to another hard driver on the car to use it. They just use a Bluetooth link to stream music from their phone.
So it looks like car makers will have to continue the never-ending search for things to set themselves apart from the competition.
You may be interested in these other posts concerning 'New Car Tech'
"Audi A8 2013 (11209751484)" by Robert Basic from Germany - Audi A8 2013 Uploaded by AVIA BavARia. Licensed under CC BY 2.0 via Wikimedia Commons.
This post was published on June 18, 2015 and was updated on August 2, 2022.