The Detroit Auto Show from earlier in the year not only showcased the best new car and truck models for the upcoming year, it also gave tech companies a chance to wow consumers with the latest advances in apps to enhance their driving experience.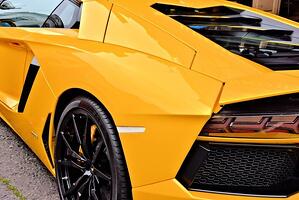 Consumers expect more these days from their cars than just lots of power and leather interiors. Many drivers treat their vehicles like a mobile office.
So here's a collection of the best bells and whistles for the upcoming model year.
The Top 6 Apps for Your Car
G-Force
Owners of performance rides like Porsche have those cars because they like the speed and power. Porsche aims to tap into this love with its mobile app that measures speed and top performance records for Porsche drivers. Not only that, it even measures gravitational force and acceleration in real time.
Trip Cast
Jeep owners may not care about gravitation force, but they typically do care about outdoor vacations. They go camping and off-roading, they take lots of pictures, and they like to share their experiences with others in a community that values the same things. Enter Jeep's Trip Cast app, which allows owners to send things like photos and videos and updates to a mapping system to document where they've been on their adventures. They can share all of this on social media and connect with other app users.
Smart Drive
This is a paid app put out by Daimler - which, we suppose, isn't so bad since Daimler owners can probably afford to pay the $14.99 monthly subscription fee without much thought. For their money, they get a varied suite of multimedia applications that are all integrated in one app and service. Streaming radio, hands-free calling, a car locator, map navigation, and point of interest listings, all available in one place on the app.
Aha
Aha is being added by multiple makers like Ford and Subaru to provide owners with "everything you need while driving". By everything, we mean everything media - audiobooks, podcasts, internet streaming radio, all sorts of programs. The content provided is broad enough to appeal to virtually every kind of driver.
Parkatmyhouse
This is one of those "why didn't I think of that" apps. If you live in a big city like London or Washington D.C, you know that parking can be problematic at best and expensive no matter what. Someone had the bright idea to create a service that allows people to rent out their driveways for a fee. Parking problem solved. Why didn't we think of that?
Car Wings
A final app for the electric car community. Car Wings works with the Nissan Leaf to allow owners to remotely track their car's battery charged, find local charging sites, and even set remote timers for their own charging stations. No doubt Tesla will be coming out with something similar pretty soon.
Photo Credit / Creative Commons / No Changes Made
This post was published on April 14, 2014 and was updated on April 19, 2021.