Talk about "fuel additives that work" to some people and they'll say "there aren't any".
Fuel additives are big business around the world, to the tune of hundreds of billions of dollars spent by individual consumers, refineries and industry.
World oil conglomerates like Shell and Chevron have huge marketing budgets to make drivers (read: customers) aware of "nitrogen-enriched gasoline" and "Chevron Techron detergent for gasoline", in the hopes that these features will set their branded fuels apart from the rest in a marketplace where gasoline can tend to be viewed by drivers as a commodity.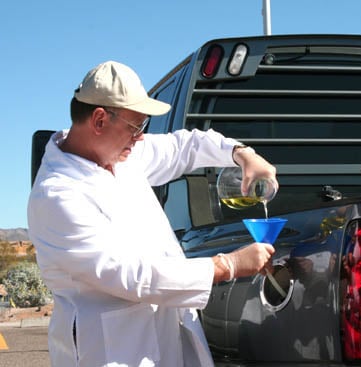 "It's all the same, let's find the cheapest place to fill up." If the consumer is convinced that one brand of gasoline is actually different from the rest, they will gravitate towards that if the value proposition is there. If they can get Chevron gasoline with special detergent and it costs the same as the BP gas across the street without it, they're going to go to the one they think is better.
Fuel Additives That Work?
The impression from the people who think that fuel additives are "snake oil" is that there are no fuel additives that work; that really do what is claimed about them. As with many things in life (and in business), that's painting with a really, really broad brush. If all fuel additives didn't work, there would not be federal requirements that refineries and terminals add certain kinds of fuel additives to change the properties of gasoline, diesel or other fuels in order to meet certain minimum requirements.
Refineries add cetane improver additive to diesel fuel to ensure the diesel fuel they're sending
out to the gas stations has the right combustion properties (i.e. cetane rating). They add lubricity additives to make sure the diesel fuel has sufficient lubricating ability so as to replace the lubrication lost when the diesel sulfur is removed (in order to satisfy a different federal requirement). They add certain types of detergents to gasoline to meet federal requirements related to that. Regardless of what you think about the government's involvement in de-facto forcing us all to use ethanol, not all federal mandates are arbitrary and based out of thin air. And if no fuel additives work at all, then none of these things the refineries are adding to the gasoline and diesel are going to do anything, either, and it's all a big waste of time.
What They Really Mean
When it comes down to it, the folks questioning whether additives work at all are really thinking of "aftermarket" fuel additives. These are the bottles you see on the store shelves or advertised for sale to the general public - the brands like STP, Lucas, Gold Eagle, Startron. What sets aftermarket formulas apart from the "bulk" formulas that refineries use is that there's no regulations to control any product claims for them. A company can say whatever they want or make any claim they want for the product they happen to be selling. That's where these faulty guarantees and outrageous claims about 30% mileage improvement come from. The attitude is that the "market" will regulate itself in the sense that if a company is selling a worthless product, everyone will find out and they will go out of business.
The most obvious response to this logic is something along the lines of "that's all well and good but in the time it takes for the 'market' to do something, those con artists have made off with lots of people's hard-earned money." Experience certainly shows this to be true. And is response, we have to say there actually is some kind of current regulation in place to try and guard against this very kind of thing. But it comes from the Federal Trade Commission (FTC) and only operates after the fact. So a slick new company could indeed bust into the marketplace with wonderful (and false) guarantees that fool enough consumers that they rake in million of dollars in just a few months. Then they close their doors and leave, long before the FTC ever gets wind of the consumer complaints that inevitably follow.
So enough consumers have been burned by fly-by-night operations like this, that their general attitude becomes "all fuel additives are worthless". And from Bell Performance's point of view, that's really unfortunate because it paints everyone in the industry with the same brush used to paint the scam artists. But that's the way it is and thus Bell Performance continues to try and set itself apart by making sure that consumers know not only what they're getting and why it will benefit them, but also that the consumers can trust the claims and the implied Return On Investment they think they're getting.
Bell Performance would prefer to make fuel additives that work and that consumers can trust, because Bell's been around for 103 years and would like to stick around for at least 103 more.
Related Posts
Read this testimonial about our diesel additives that work.
You may be interested in these other articles:
This post was published on August 21, 2012 and was updated on August 2, 2022.