Blog Home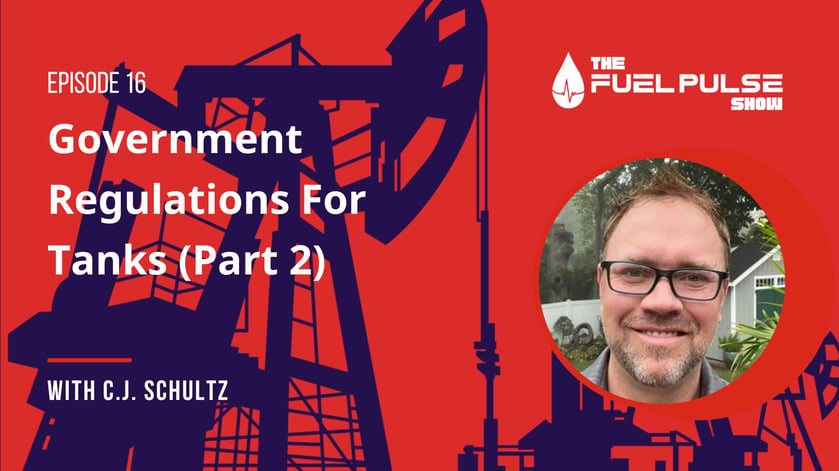 It is critical to ensure that your tanks are in compliance with government regulations, but this can often be easier said than done. Today we're continuing the conversation on testing and compliance with C.J. Schultz from Tanknology, the world's largest provider of tank testing and environment compliance services for petroleum systems.
We're diving further into government compliance and tanks, as well as discussing some of the biggest differences found in the regulations from state to state. C.J. also shares why record-keeping and technician training should be standard across the industry, his thoughts on the value of forging relationships within the petroleum industry, and how the industry has evolved over the many years he has been part of it.
Listen to the Full Episode:
What You'll Learn:
The biggest differences in regulations from a state level.
What C.J. foresees for the future of the regulatory arena.
The importance of retaining the employees you have.
Why Tanknology focuses on its people.
What C.J. knows now that would have surprised him years ago.
Ideas Worth Sharing:
"To have that centralized area improves everything." - C.J. Schultz
"We are able to be a voice during the regulatory development." - C.J. Schultz

"Whenever there's a regulation type discussion happening, you can guarantee that someone from Tanknology is sitting there providing input and guidance based on the situation." - C.J. Schultz
"Everybody truly wants to make sure that the environment is protected." - C.J. Schultz
"There's plenty of people out there who don't know what they don't know." - C.J. Schultz
"You really don't know everything, and you never do." - C.J. Schultz
Resources:
Share this Article!
Tweet
Make Sure You Don't Miss An Episode!
Get an email when a new Fuel Pulse Show episode drops!
Other Posts on this Topic