Consumer Reports releases its annual new car ratings report in October. But on August 27th, Consumer Reports issued a press release to talk about how one car they tested was so good, it actually broke their test curve. They were so excited, that they couldn't wait until October to let everyone know.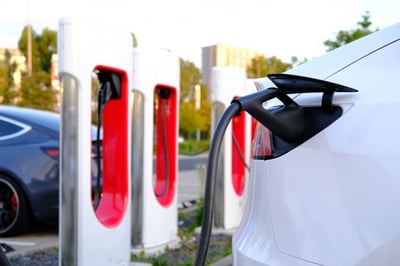 The car? The new all-wheel drive Tesla Model S. is completely battery-powered. No gas is required.
Officially, it's known as the Tesla P85D. It's the new and improved version of the highly-rated Model S that first gained notoriety two years ago by scoring 99 out of 100 on Consumer Reports' scoring system. That made people sit up and take notice. The new P85D is now all-wheel drive and actually improves on the old Model S's power and performance. Which is a really significant accomplishment.
The new P85D was so good in testing that it scored 103 out of 100. That's right – it was so good, it broke the curve and caused Consumer Reports' engineers to have to revisit the drawing board and recalibrate how they measure cars.
The P85D improved significantly in performance. Imagine going 0-60 in 3.5 seconds. You can in the new P85D. 3.5 seconds in an electric car. The old Model S did it in 5.6 seconds. Contrast those figures to a market leader like the 2015 Camry - it takes 7.9 seconds. It's faster than a BMW 650i. While it's not a Porsche or Ferrari (they can do it in 2.5 seconds), it's plenty fast. In fact, Consumer Reports engineers acknowledge that a churn-inducing acceleration time doesn't really matter that much. I mean, how much of a hurry are you in, really?
The P85D combines groundbreaking performance improvements with improved efficiency. That's really difficult to do. The 99 out of 100-score Model S got the equivalent of 85 mpg. The new P85D gives you better performance and all-wheel drive while raising that to 87 mpg. Impressive.
Consumer Reports could not say enough good things about the new Tesla model. The caveats are that it's expensive (over $127,000), and the curve-busting score was on the 6,000-mile road test only. While that test measured important things like braking and comfort and safety, there was not enough data to score reliability or value.
Still, Consumer Reports is excited because the P85D potentially represents a new benchmark in the industry, especially when you remember that this is an electric car we're talking about. Not a gas-electric hybrid. An all-electric car.
The test engineers for Consumer Reports basically said "Look, we don't test $120,000 cars because we want people to run out and buy a seven-figure car. And it's not the perfect car – there are still opportunities to improve in multiple areas.
But this is as close to perfect as we have yet seen."
You may be interested in these other articles:
This post was published on September 10, 2015 and was updated on August 2, 2022.