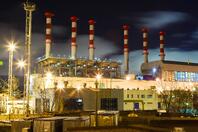 Energy analysts predict that North America and the USA are poised to displace the OPEC countries as the dominant providers of petroleum energy fuels within the next 7 years or so.
The International Energy Association's report predicts that by 2018 (just 5 years from now), North America will be supplying 40% of the world's supply of petroleum fuels like oil and natural gas, while OPEC's (think the Middle East) share will drop to less than 30%.
That's a shift that none of us have ever really seen in our lifetime.
The biggest reason for the historic shift is the development of new technologies for extracting oil from shale and oil sands. Canada alone has estimated reserves of 1.75 trillion barrels of petroleum locked in their oil sands region larger than the country of England. Analysts estimate that almost 200 billion barrels of that are immediately accessible under "current prices" - basically, the rationale is that just because you have a reserve doesn't mean you can get to it right now. They always predict that technology will find a way to do it, but some of the reserves are more readily available than others.
So to compare, Canada has almost as much petroleum available to it right now (200 billion barrels) as Saudi Arabia does (267 billion barrels).
For more on the International Energy Association's report, click here.
This post was published on July 23, 2013 and was updated on November 19, 2013.