While we've all been sheltering at home and worrying about toilet paper, the 2020 hurricane season has been slowly creeping up on us. The season officially starts each year on June 1 and runs through November 30th, the dates that typically define the time each year when the most storms form in the Atlantic basin. This year's hurricane season promises to be more problematic simply because of the pandemic's social distancing restrictions and how those restrictions, over a period of months, have lulled us all into a kind of pseudo-sleep of waiting to see what happens.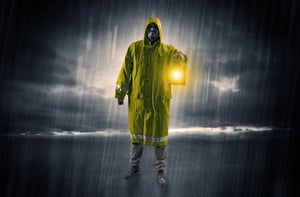 The season actually got a head start already with the formation of three named storms – Arthur and Bertha, in the month of May and Cristobal making landfall in June. That makes six straight years with pre-season systems, but the first time since 2012 that more than one named storm formed in the month of May.
Though there are many agencies and academic groups that make informed predictions for hurricane season, the ones most paid attention to are the hurricane experts at Colorado State University (CSU), and the gold standard, the National Oceanic and Atmospheric Administration (NOAA). The NOAA forecast is the one paid for by your tax dollars as the NOAA is charged with forecasting the weather as a public service. They're also the ones that manage and pay for all the weather satellites.
Hurricane season predictions all list three figures. The first one is the number of named storms, the second is number of hurricanes, and the third is the big one – number of major hurricanes. (Category 3 or higher).
So What Do They Think We're In For?
By all accounts, every weather agency predicts a busier hurricane season than average. Yay!
The NOAA predicts 13-19 named storms. This is above the average number of 12.1 that is based on the thirty years of data from 1981 through 2010.
They also predict 6-10 hurricanes, compared to the average of 6.4 per year.
For major, big hurricanes, the NOAA is predicting at least 3 this season, but as many as 6. The average for major hurricanes is 2.7 per year.
The CSU weather team tends to settle on more specific numbers, predicting 16 named storms, 8 hurricanes and 4 major hurricanes.
What Influences These Predictions?
It appears that the relevant conditions are favorable for a more active season. The biggest ingredient is sea surface temperature. Storms need warm weather to fuel them. The warmer the ocean, the more aquatic fuel is available for the storms to tap into and use to grow. The surface temperature in the Atlantic Ocean are running well above normal and have been for several months. This points to a coming active Atlantic hurricane season.
El Nino is another factor that will impact the coming season. It seems we say this every year, that it will or will not have an impact. For 2020, weather professionals believe El Nino will make the hurricane activity greater. Why? Remember that hurricanes not only need warm water for fuel, they also need favorable atmospheric conditions. They need to be able to build and grow, which includes having atmospheric wind conditions that won't break the storm up before it has a chance to get larger and gain strength. Wind conditions like vertical wind shear, where the winds change speed and direction vertically, which are a big factor in preventing hurricanes from building.
So when we speak about the El Nino weather system impacting the coming hurricane season, we're talking about it not being strong enough to meaningfully change the buildup of these storms. Weather forecasters seem to believe El Nino is going to be pretty neutral this year, boding well for a stronger hurricane season (if you like that kind of thing).
You may be interested in these posts that will help you prepare for the next storm:
This post was published on June 9, 2020 and was updated on June 9, 2020.