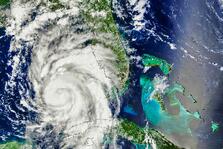 Bell's home state of Florida has a rainy season where it rains for about 30 minutes almost every afternoon from March to November. But for the past 3-4 years, the rainy season doesn't seem to have had the same impact as in years past. Hence the surprise of myself and other Florida residents when the rain has come back this year and the rainy season is in full force. We were just lulled to sleep by 3-4 years of pretty dry weather. So what used to be expected now appears abnormal to us in the present. Not that we're complaining at all about the rain; we know we need it.
Florida residents and others on the Gulf and Atlantic coasts know that hurricane preparation is an important step to take for the safety of their families, even if we haven't had many hurricanes since the exceptionally busy hurricane seasons of 2004 and 2005 when we all were visited by Charlie and Dennis and Katrina and Iris and the rest. But even if you don't live near water, there are some things you should take away from storm safety tips. Millions of people in the South and Midwest are not troubled by hurricanes but face the very real prospect of tornadoes - forces of nature just as destructive as the giant rainstorms that we ride out in Florida.
So this week's blog has a little bit for everyone. Today we count down some of the best tips for storm safety, whatever storm you're thinking of. Hopefully, you can take away something useful to serve you and your family well when you need it most.
Have An Emergency Kit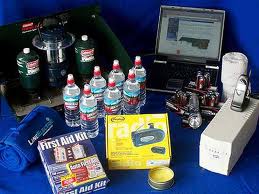 The government doesn't advocate building bomb shelters anymore like in the 1950s, but emergency kits could be the 21st-century equivalent. A good emergency kit contains things that you're really going to need in the event of a bad storm, but which you may neglect to put together beforehand. It's recommended that you put into the kit some or all of the following:
Enough food and water to last for 72 hours in the event of loss of essential services
One or more flashlights with fresh batteries (better yet, get a hand-cranking flashlight that doesn't even need batteries)
An NOAA weather radio
Garbage bags and twist ties (for personal sanitation)
A can opener (!)
Plastic sheeting with duct tape
A dust mask or cotton t-shirt to help filter the air
Warm clothes and sleeping bags if you live in a cold-weather area (what would happen if you lost power in winter?)
Copies of important family documents (like insurance policies) in a waterproof sealed plastic bag
There are many other things that could be recommended to stockpile. But if you start at least with the small basics like the elements above, you'll be ahead of the game when the critical time comes that you really need them. You'll be glad you have them.
If you have a generator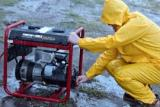 After the 2004/2005 hurricane seasons, generator sales in Florida and around the Gulf Coast skyrocketed. When you really need them, a generator can save your hide (and most of the perishable stuff in your refrigerator). But generators are as-needed machines; you need them when you need them, but you're so glad you have them when the time comes.
The rise of ethanol in gasoline poses unique issues for generators. The ethanol fuel waiting around to be used in an emergency may not be of sufficient quality because of phase separation due to the ethanol absorbing too much water from the atmosphere. So it's recommended, as part of an emergency plan, to treat any stored ethanol-gasoline you may have with a good ethanol fuel treatment. This ensures that the fuel will do what you need it to do when the storm hits and you're banking on your generator being there for you and your family.
P.S. We found this interesting story on the effects of ethanol on generators on one of NPR's sister sites for the Marketplace program. Even back in 2008 when E10 and E15 ethanol levels were just blips on the fuel horizons, they could see those future problems would be looming.
This post was published on July 19, 2012 and was updated on April 6, 2022.