They don't make motorcycles like they used to. And that's a good thing.
There are more cycles on the road today than ever before and the number isn't going down. There are two million more motorcycles on the road today than there were just 10 years ago: 8.6 million today vs. 6.6 million in 2005. Today's cycles are more awesome than ever before, and more expensive than ever before, too.
With the nature of what a motorcycle is (and how it doesn't offer the protection for the driver that a passenger vehicle does), safety has always been a huge inherent concern. As you'd expect, the rates for motorcycle fatalities dwarf the rates for other types of vehicles.
In the early 2000s, on a per mile travelled basis, motorcycle fatalities were 26 times higher than passenger car occupants, and rates of injury were 4 times higher. Fast forward to recent years, and how are those trends looking? According to the Insurance Institute of America, they're not trending in the right direction. The 2015 figures are now that motorcycle fatalities are 29 times higher than those in passenger vehicles, and rates of injuries are more than 5 times as high.
Looking at this closer, passenger vehicle deaths have declined by 25% in the last 10-15 years. This is what we should be expecting to see, since passenger cars are safer than ever before. On the other hand, the number of motorcycle fatalities seem to be pretty stable - usually around 4,400 – 4,600 per year. It was 4,900 in 2015. So one reason motorcycle deaths seem to be going up relative to passenger vehicles is because passenger vehicle deaths are steadily declining.
We can also explain this difference by noting that you had 6.6 million motorcycles registered in 2005, compared to 8.6 million registered in 2015. This means that part of the lack of decline in motorcycle accidents and injuries can be traced to simply having more motorcycles around at any one time.
Of course, safety advocates and the motorcycle industry would say that 4,600 deaths is 4,600 too many. So the industry is always coming out with new safety innovations, trying to lessen the risk for riders. You'll never be able to completely eliminate human error, but recent innovations show the motorcycle industry is doing their best to make motorcycle operation a safer endeavor.
New Motorcycle Braking Lights
These were introduced at the Consumer Technology Association 2017 show, and feature the first wearable brake light connected to a smartphone app. It fits on the helmet and emits a red signal at eye level to the driver of the car behind the bike. It also turns itself on when the motorcycle is slowing down. Given how quickly motorcycles can stop, this is an important feature. And because it's connected to your phone via Bluetooth, it will automatically rescue-call the nearest emergency services within 3 minutes of an accident on the bike.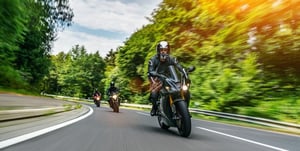 Green light Triggers
These are attachable magnetic triggers that can be fixed to the bottom of the bike frame. They eliminate the annoying problem of being stuck at a red light because the bike isn't strong enough to trigger the change in light.
Anti-lock Brakes
These were first introduced on cars in 1972, and for motorcycles in 1988. Seven years ago, the first motorcycle-specific ABS was introduced by Bosch. These anti-lock brake features have been shown in studies to reduce fatal collisions for motorcycles by more than 30%.
Up to now, these were available as options that cost extra. But that could be changing. The EU, in 2016, made ABS a standard requirement for new motorcycles over 125cc. So it's only a matter of time before the United States follows the same direction, given how the Insurance Institute for Highway Safety is lobbying the government to make it so.
You may be interested in these articles about motorcycles:
This post was published on July 18, 2017 and was updated on July 24, 2017.