We've been hearing about ethanol in our gasoline a lot in the past couple of years, but many people don't realize that ethanol has been used as fuel for cars ever since 1896. That was when Henry Ford made his very first car, the Quadricycle. But it was the Model-T that really took off, and that particular car could run on gasoline or ethanol. So ethanol as an auto fuel has been around just as long as Mix-I-Go has!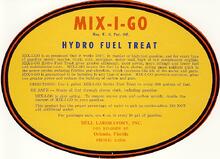 Ethanol use in gasoline virtually ceased when Prohibition came along a few years later and didn't really pick up again until the late 1970s. Lead was being phased out of gasoline, followed by government regulations in the 1980s that started to mandate the addition of chemicals like Ethanol and MTBE in the gasoline supply to reduce air pollution. Bell customers were happy to use Mix-I-Go all through this time to help them get better gas mileage and protect their cars and trucks from ethanol's effects. Of course, consumers back then were concerned about gas approaching $1.00 per gallon. What would they think now?
That's just one of the reasons Mix-I-Go works so well in ethanol blends - it's been used in them for years.
This post was published on December 16, 2011 and was updated on January 5, 2022.