Dads love cars. Well, not all of them but most of them. It's just one of those things about being an American male – they love machines, gadgets, and the sound of the engine roaring as they thunder down the road. Maybe it's genetic, who knows?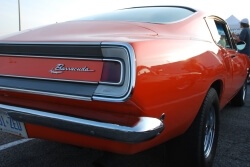 Bell Performance started business in 1909 and developed its first multi-function gas treatment in 1927. Cars were a lot different back then - heavier and less fuel-efficient. Not as safe as the cars of today because of today's modern crumple safety zones and space-age materials. Dads over the age of, say, 50, can well remember the beauty of the body styles of the cars of their youth. Cars are beautiful and well-designed now, too. But there's just something about the nostalgia of the cars of yesteryear. Maybe it's Harley Earl's fault.
Dads are also known for knowing value – as in, knowing the important things in life. That's why dads like to preserve their cars and keep them around. Modern cars are expensive, more so now than ever before. And many older cars in great shape are valuable because they are antiques and thus are prized by the older generation.
More and more dads (and moms) are keeping their cars in better shape and for longer periods of time. It's expensive to buy a new car. Far better to keep your old one in good shape.
Just like they know the worth of a 1950s Buick LeSabre, dads (and moms) know the value of Bell Performance. Bell was keeping cars like new in the 1950s and 1960s and is doing the same thing today. Only now, the stakes are higher, with gas at $3.75 a gallon and new ethanol blends threatened to eat the life right out of fuel lines and engine parts. Yet Bell is still here, providing solutions for fathers and mothers who need to stretch their budgets while keeping their cars and trucks around longer. Fly-by-night "fuel treatments" come and go, but Bell Performance is still here to stay.
If your dad is still around, give him his due this Father's Day. Maybe even take him for a drive. It is summer driving season, after all. And take some time to put some Bell Performance in your tank before you go. Quality and value, like dads, never go out of style, even if you can't say that about your dad's wardrobe.
P.S. Why not show your dad some love on Father's Day Weekend by taking advantage of Free Shipping on all Bell Performance.com orders through Sunday, June 19th?
This post was published on June 16, 2011 and was updated on August 2, 2022.