It's not often that we introduce a new product formulation at Bell Performance, but that time has come. We are pleased to announce a new ethanol treatment to the Bell line of solutions - ETHANOL DEFENSE.
ETHANOL DEFENSE combines proven multi-function combustion improvement, detergency and ethanol protection with the best professional-strength water absorbing power for the ultimate in performance enhancement and protection from the effects of ethanol in gas.
In our time spent observing the marketplace and what drivers and consumers are asking for, we've come up with a great solution for ethanol users who need the best protection and best water control possible. Industrial strength protection and control, combined with better mileage, power and performance. That's what ETHANOL DEFENSE was designed to give.
If you:
Have an older vehicle or classic car and have real concerns about ethanol damage
Have stored ethanol fuel for any significant length of time
Need the best protection for small engines vulnerable to ethanol water problem
If you fit any of these descriptions, the new ETHANOL DEFENSE formulation from Bell Performance could be what you're looking for. Click here to find out more about new ETHANOL DEFENSE treatment from Bell Performance.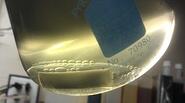 10% ethanol gas with water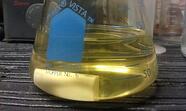 The same 10% ethanol gas treated with Ethanol Defense
This post was published on May 7, 2012 and was updated on July 8, 2015.