What do the Batmobile, Adolf Hitler's Mercedes Benz 770k, and the 1953 Buick Roadmaster owned by Howard Hughes, have in common?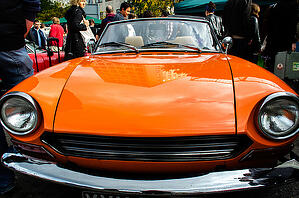 They've all set records for the most expensive cars sold at the renowned Barrett-Jackson Collector Car Auction.

Originally organized in Scottsdale, Arizona in the early 1970s, it now sanctions a plethora of "World's Greatest Car Collector Events" in Scottsdale, Palm Beach FL, Orange County CA, Reno and Las Vegas Nevada.

The next event will be coming up in Palm Beach on Friday, April 11th. Since Palm Beach isn't too far away from our home near Orlando, we're definitely going to go pay a visit. We might even talk to some classic car folks and get some more word on the street about fuel issues of concern within the classic and vintage car markets.

Thinking about visiting the show yourself and maybe plunking down some cash? Better bring a rather large checkbook. Last year's top seller, the actual 1966 Batmobile, went for $4.6 million. The biggest seller in 2014's Scottsdale show was a 1968 Corvette L88 for $3.85 million. And in 2012, folks must have really been looking to flash the cash, when four cars each went for over $2 million, almost in succession - the 1948 Tucker Torpedo, 1947 Bentley Mark VI, 1954 Mercedes 300SL, and the 1933 Pierce Arrow.

What new records will be set this year? Find out April 11th.
Photo Credit / Creative Commons / No Changes Made
This post was published on April 7, 2014 and was updated on April 19, 2021.