Last month James Dunst, Bell's resident master mechanic, was the featured guest on The Classic Car Show podcast.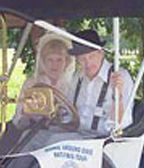 If you're familiar with our James on Engines series you're aware that as our master mechanic James is used to fielding a wide range of automotive questions. In this episode of The Classic Car Show, James tackles a host of questions from a classic car perspective, covering everything from the changing car culture of young people to the impact of ethanol on classic cars.
The episode starts out with the story of how James first got interested in cars and engines. The conversation then takes a turn into the changing nature of the car culture among young people and a discussion of the dwindling automotive programs available in public schools today.
Of course, no interview with our resident master mechanic would be complete without a discussion of ethanol, the problems it can cause, and how to treat your fuel to avoid damage caused by ethanol. If you're interested in classic car restoration and maintenance, this is a must listen.
You can listen to the full episode here to learn more about James's background, the effects of ethanol on classic car engines, and more!
Check out these other posts on Classic Cars:
This post was published on November 22, 2017 and was updated on November 22, 2017.