Started in 1957, NAFA has grown to become the world's leading association for people who manage fleets of vehicles – police, trucks, buses, even military and off-road. In total, NAFA's members are responsible for overseeing the care and operation of almost 4 million vehicles worldwide.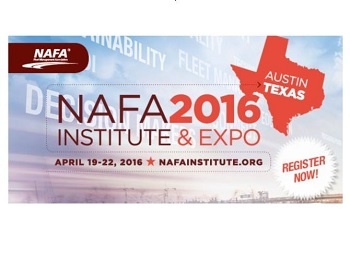 NAFA seeks to support its members with the goal of improving their ability to contribute to their employer's success. They do this through offering quality educational experiences and through bringing industry members and leaders together so they can collaborate and share both experiences and their vast intellectual resources within the field.
This year's NAFA show , the 2016 NAFA Institute and Expo, covers a wide array of valuable topics. No matter the kind of fleet professional, there's going to be more than one thing there that they will be interested in. Driver monitoring. Improving cash flow. Using technology. Enhancing safety behind the wheel.
There's even a session on how to connect with the Clean Cities program to participate in alternative fuels implementation. In normal person speak, it's about how to take advantage of some excellent government resources to both reduce costs (putting money back in your pocket) and reduce environmental impact through the use of alternatives fuels out there in the marketplace. This has a pretty important emphasis for the government in recent years, so they're sending some of their big dogs to the show – Andrew Huggins (Project Leader at the National Renewable Energy Laboratory in Denver) and Mark Smith (Vehicle Technologies Deployment Manager at the U.S. Department of Energy).
It may not be that well known, but the Federal Government has been working on some pretty tools to help fleets in private industry save money while helping the environment – toolkits, alternative fuel locators, and databases designed to help fleets and business take maximum advantage of the myriad of incentives out there to reward environmentally-friendly behaviors.
If you're going to be at the NAFA, drop us a line and let us know how it was!
You may be interesed in these other posts:
This post was published on April 5, 2016 and was updated on April 5, 2016.