Considering everything that has to happen on a daily basis to make our country work, it stands to reason there are lot of things that go on "behind the scenes" that the average person has no idea of. These kind of things are well familiar to the business world because they know that things wouldn't get done without them.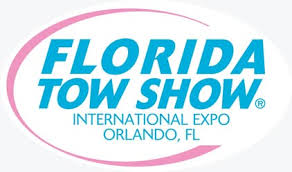 Even with something as simple as towing services, there can be a wide gulf between what the consumer sees it as and what actually goes on in the business world.
The towing industry involves large diesel trucks capable of hauling large loads in a safe manner (heavy duty haulers will transport loads in excess of 26,000 lbs. That's at least 13 tons). Towing technicians are highly skilled vehicle operators. And they have to be able to deliver their incapacitated loads to their final destination even when bad weather makes conditions less than optimal.
The Florida Tow Show - Be There or Be Square
The towing industry even has their own trade show here in Bell's home state of Florida. The Florida Tow Show happens in early April in Lake Buena Vista, Florida. Right around the corner from Disney World, which gives a perfect excuse to hit the show first and the rides second. And they're even giving away a free tow truck at the show this year. Who does that? The Florida Tow Show does.
The Florida Tow Show also offers outstanding informational presentations on vital business issues that towing owners and operators need to know. Protecting Your Towing Business With Law Enforcement. Lockout Class (that sounds like fun). 5 Google Secrets Every Tower Must Know. All of this is stuff you probably couldn't find on your own. Hence why industry trade shows like the Florida Tow Show are such a valuable experience for those in the industry.
If you own a towing company, what would make your life easier? We know that the towing industry is "highly fragmented". Which is just another way of saying there's a lot of competition out there. Maintaining profitability can be difficult, even in a good economy. There are some things you can do here, especially on the fuel side (which tends to be the largest on-going expense of a towing company). Minimizing fuel problems, especially with stored fuel, is essential. If you remember the old days of low- or high-sulfur fuel, you might notice a difference between diesel fuel back then and the ULSD fuels of today. The potential for fuel problems that negatively impact your business is greater now than ever before, simply because of how diesel fuels have been forced to change.
How do you differentiate your towing business in a crowded marketplace? Make it stand out? One clue may lay in business surveys that show consumers often have a negative perception of the towing industry because of perceived shady business practices. The good and honest members of the towing community get hurt by this through the paintbrush of guilt by association. Bell Performance can understand how difficult this can be, as the fuel additive industry also has some members that seem to ruin it for the legitimate members who strive to help customers, not rip them off.
Two recommendations for towing companies
Number one, if you have a chance to spend a little time at a show like the Florida Tow Show, we'd highly recommend that. One single place with 1,000 or more professionals in the same boat as you, sharing information and solutions for the biggest things negatively impacting their (and your) towing business. You can't put a price on the value of that.
The second recommendation is simple. Give your customers an experience that exceeds their expectations. This goes even further in situations where consumers are afraid of being ripped off, than it does in situations where the potential customer knows exactly what to expect. Give them a great experience and you'll more likely to have a customer for life.
You may be interested in these posts:
This post was published on March 29, 2016 and was updated on March 29, 2016.