Two years ago, it was Hurricane Irma, the largest storm Florida and the Atlantic had seen in almost 15 years, and the eventual record holder for the longest time with sustained wins exceeding 180 mph (!). We got a break from major hurricanes in 2018, and the first half of the 2019 Atlantic hurricane season was pretty uneventful (so much so, that we posted an earlier blog in July saying it's been pretty quiet but that doesn't mean we're out of the woods yet. And so here we are, watching as Florida prepares for the arrival of Hurricane Dorian over Labor Day Weekend.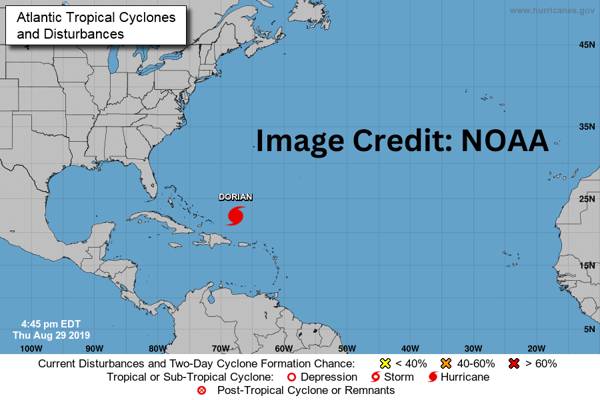 Dorian seems to have intensified rather rapidly, though not as quickly as Hurricane Michael did. As of Thursday afternoon, forecasts saw the distinct chance that Dorian could make landfall somewhere along the central east coast of Florida as a category 4 storm. That would make it the strongest hurricane to hit Florida's east coast since the infamous Hurricane Andrew back in 1992. Michael was a Cat 5 storm, but it made landfall on the Gulf side, at Mexico Beach. Hurricanes don't usually hit Florida's east coast, they tend to come up from the south and hit Miami, or diverge off into the Gulf and target Tampa.
One good characteristic of Dorian is what the NOAA reported at 11am on Thursday, where their aircraft detected that the storm had developed a second eye within its larger eye center. The small inner eye is about 5 miles wide, whereas the larger outer eyewall measures about 25 miles across. This is significant because this creates a concentric structure that can tend to limit how high the winds get.
So it bears watching in the next couple of days, whether Dorian slows down (which would allow it to strengthen further) or speeds up. Current estimates as of Thursday afternoon has it hitting land Monday morning. That should make for a memorable Labor Day and not in a good way for Florida residents.
If you're near the path of the storm, what should you do? Just as we said when Hurricane Irma was bearing down, there are new rules in place that require a lot more businesses and service installations (hospitals, gas stations, supermarkets) to have functioning generators. This is especially important for gas stations where the biggest problem isn't always that they run out of fuel, it's that they don't have power to run the pumps to get the fuel out.
Hopefully, if you're in one of these mission critical functions, you've been taking care of your stored fuel. When the smoke clears, talk to us about the Bell FTS program for taking care of your stored fuel and tanks.
If you don't have one already, we put together some helpful information for hurricane preparation, in conjunction with the NOAA: https://www.bellperformance.com/blog/bid/59676/Hurricane-Preparedness-Families-Municipalities-Fuel-Storage
Finally, Bell Performance itself will be closed on Monday for Labor Day (and probably Tuesday) as the hurricane moves through.
This post was published on August 29, 2019 and was updated on January 21, 2020.