In their perpetual effort to improve air quality, the EPA is getting ready to propose new regulations aimed at requiring better mileage from the largest vehicles on the highway – Class 8 "big rig" heavy duty trucks. The United States uses a classification system for commercial trucks based on gross vehicle weight. Light-duty trucks fill the first three classes and include your typical consumer trucks like the Ford F-150 and Toyota Tacoma. Then you go all the way up to Class 8 trucks which exceed 33,000 lbs and which require a Class A or Class B commercial drivers' license to operate.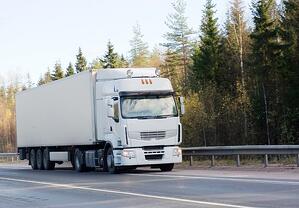 So the EPA is taking aim at these "major offenders", stating that the account for 25% of all greenhouse gas emissions in this country, while only making up 4% of the total traffic. And since the EPA is concerned with air quality, their solution is to turn up the heat on fuel economy standards.
Carbon emissions are, really, the only thing left to attack diesel trucks on. The image of the smoke-belching big rig is fast becoming a thing of the past - in fact, it has been for some time now. For a number of years now, diesels have been required to have DPF and DEF units installed – filters to remove the smoky smoot and neutralize the NOx exhaust fumes that contribute to smog. If you own a diesel big rig, you already knew that. But the average person probably still thinks diesel trucks are huge polluters. In this case, the only thing they're guilty of is low fuel mileage, an unavoidable consequence of the work that they do.
40% more mileage mandated
The average tractor-trailer now gets about 5-6 miles per gallon. The new EPA regulations will seek to get that up to 9 mpg by the year 2027. The EPA, along with environmental groups like the Environmental Defense Fund, are putting a huge positive light on these new rules. It will reduce the cost to operate a diesel big rig mpg by 20 cents. And it will save millions of tons of carbon from entering the atmosphere – do more work, burn less fuel, emit less carbon.
But nothing comes without a price. You can't just wave a magic wand and, poof, trucks get better mileage. These new requirements are going to require big changes in design by the truck makers, changes that will make those trucks a lot more expensive. Analysts estimate that the changes needed to boost mileage by 40% will add $12,000 - $14,000 to the manufacturing cost for the typical tractor trailer. Granted, tractor trailers cost a lot more than a $25,000 car, but still, $14,000 extra is not chump change.
To help ease the pain, the EPA was quick to point out that many big rigs would recoup that extra cost with extra fuel savings that would add up within the first two years.
So it appears that this is going to be just the latest challenge to the ingenuity of the truck engineers. This requirement will bring us to the end of a pretty significant road when it comes to making both gas and diesel vehicles better for the environment. Many may not realize, but air pollution emissions from vehicles have gone down by a full 99% over the last 40 years. Let that sink in. Vehicles today (or at least by 2027) are or will be 99% less polluting than they were in your parents' day.
If you are interested in big rig MPG, you may find these posts helpful:
This post was published on September 8, 2015 and was updated on September 28, 2015.