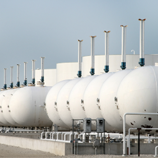 You've probably seen the problem symptoms, even if you didn't recognize them – filter plugging, corroded tank parts. Not to mention the water and blackened fuel sitting in storage tanks. All caused by fuel microbes.
If you have microbes in fuel storage tanks, it's much more likely that essential pieces of equipment won't run when needed.
That's what happened during Hurricane Katrina and Superstorm Sandy. You can bet it's going to happen again with the next major emergency.
Storage tank surveys show that 90% or more of fuel storage tanks have microbial contamination.
Today's ultra-low sulfur diesel fuels have little fuel resistance to microbe problems in the storage tank. This makes it even more important to manage these situations so stored fuel crises don't arise.
In the face of fuel microbe problems, you can go it alone or you can get help from an expert partner. Someone who can do the testing and fuel maintenance necessary to preserve the fuel quality and ensure it's there when you need it most.
Partnering with Bell Fuel & Tank Services does just that. It's what we do.