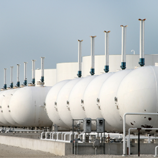 Get rid of the guesswork with your fuel.
Stored fuel can be an out-of- sight, out-of- mind proposition for many. And while you're tending to other things, the quality of your stored fuel is declining and under attack.
Checking your fuel periodically won't tell you if your fuel is still good. Or if you can expect problems and disaster.
When storms and emergencies are on the horizon, how confident are you that your fuel will do what it's supposed to?
Customers with the Bell Fuel & Tank Services program have answers to these important questions, because their fuel has been tested and its condition verified.
The Bell Fuel & Tank Services program uses reliable ASTM testing to give customers answers and peace of mind when it comes to their fuel.
And if a fuel problem does arise, this testing through the Bell Fuel & Tank Services program points to the right solutions to fix fuel problems right the first time.
What's The Value of Peace of Mind? Bell Fuel & Tank Services customers can tell you.