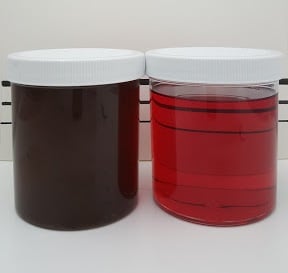 Stored fuels can't resist breakdown without a little help.
Chemical fuel treatments are an essential part of a good fuel preventive maintenance process. They do the things that mechanical fuel polishing can't do on its own.
Biocide to knock out microbes. Fuel stabilizers for longer fuel life in storage. Sludge dispersants and detergents to keep tanks clean. Essential tools to protect fuel and make sure your stored fuel is ready for action whenever you need it.
Not all fuel "additives" are what they seem to be. Or any good at all.
Bell Fuel & Tank Services customers have confidence knowing their fuel is protected by the best chemicals in the industry. And they have confidence that they're getting exactly what they need. All backed by over 106 years of experience with Bell Performance - the father of the fuel additive industry.
When you take the best chemical fuel treatments in the industry and combine them with the other elements of the Bell Fuel & Tank Services program, you get piece of mind that money can't buy.