As Labor Day approaches, we got to thinking 'we haven't done a summer driving blog yet this year'. So we enlisted the help of our friend Keith Jacobs with the web site carupkeep.info, to provide us with some simple recommendations on how to prepare your car for your next road trip.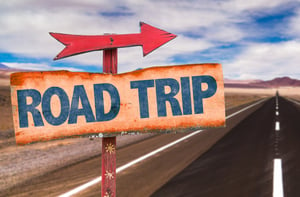 Road trips are a great way to take some time and explore, to have adventures with your friends or loved ones, and to relax and reduce stress after a long period of hard work. Road trips take some planning, however, especially if you're going by yourself. You want to ensure that you'll be safe for the journey and that your car is in good shape. This means making some preparations ahead of time to get your vehicle checked out and in tip-top shape before you hit the road.
Think about how you'll take care of maintenance while you're on the road, as well. Your tires, windshield wipers, and buildup of road salt or dust on the outer panels can be problematic if they're let go, so create a plan for taking care of these things — and more — when you're away from home. You might invest in a AAA membership, which will help you with roadside service in the event of an accident or breakdown, no matter where you are.
Read on for some tips on how to prep your car for a road trip.
Know What to Expect
Knowing what to expect from your car is crucial when you're starting out on a road trip; even if you've owned it for a while, there may be issues you're unaware of or potential problems that could crop up in certain weather conditions. Get to know your vehicle and do some research online to figure out the pros and cons of your car before they pop up when you're away from home. For example, if you own a Toyota RAV4, it's important to understand that it's not the best for off-road adventures before you decide to hit some rugged terrain. While a Subaru Outback can be great for going off road, some older models have below-average gas mileage.
Have It Checked Out
Your car should be thoroughly checked out before your trip. Get an oil change, have the fluids topped off, make sure the tires have enough air pressure and tread, and have the wiper blades changed if it's been a while. You never know what type of weather you'll run into, and it can be treacherous to drive on unfamiliar roads while it's raining or snowing. Next, look online to get an idea of what sort of auto shops will be available on your route.
Get Technical
These days, there are plenty of apps that will help you stay on top of your vehicle needs while you're on your trip. If you'll be making stops to go shopping or will be visiting a big place, such as a theme park, download an app that will help you keep track of where you parked. You can also head to AAA's website for more information about their mobile apps. When it comes to getting on the road with little fuss and muss, look for apps that will help you find the nearest gas station or hotel, or one that will help you plan your trip so that it goes as smoothly as possible.
Prep for Emergencies
Your road trip will likely be as smooth as you want it to be, but it never hurts to be prepared for anything. Put together a road trip emergency kit with extra water, snacks, a warm blanket, flares, and any tools you might need to change a tire or get things moving again should the car stall or have engine problems. If you require medication, keep extra dosages in the car during your trip (you may want to keep it in a cooler to make sure it's safe). Planning for any contingency will give you peace of mind while you're on your journey.
Road trips can be great fun, but it pays to be cautious and prepared even if you aren't going too far. Bring along your phone charger — or a wireless charger to keep in the car — so you'll always be connected no matter how far off the beaten path you are. This will help you stay safe and will give your loved one's peace of mind about your safety.
This post was published on August 27, 2019 and was updated on August 2, 2022.