People get skittish around things they're not familiar with. And they get especially nervous in situations where they sense there's a chance they could be taken advantage of. These are just two reasons why many women don't really like taking the car to the service station for repairs. Over the years, the auto repair industry has had its reputation sullied by stories of women taking their cars in for repair…the mechanic sees dollar signs when they walk in the door because they reason (many times correctly) that they can say anything to the lady as far as what's wrong with the car and what needs to be fixed (hey lady, your headlight fluid needs to be changed). It's like a blank check to them.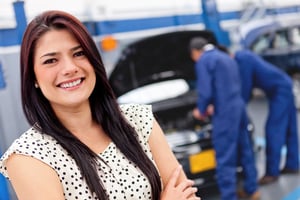 And that's not right. Nobody should be afraid of being cheated, and we bet there are thousands of mechanics who read stories like this and grit their teeth. It's their reputation that takes a hit when a woman tells a story of feeling like she's been cheated by an unscrupulous mechanic.
So what's a woman to do?
Thankfully, there are an increasing number of mechanics and auto repair shops that recognize that this old school way of thinking (taking advantage of the woman) is not good business. They know that women are now 60% of their customer base. They try to be "female-friendly". All other things being equal, these businesses are a good bet for women who feel unsure about their experiences with their local mechanic shop.
Not sure what to look for or how to spot them? Try looking for some of these.
Friendly, courteous staff
This is simple but goes a long way. And we know someone can fake sincerity, such that simply being sincere doesn't automatically make you honest. But a shop that ingrains in its representatives the importance of simple courtesies and friendliness - they're more likely to be a winner in other important areas.
They answer questions in ways you can understand
The mechanic should always be willing to explain what's wrong, and in ways that help you really understand complex issues. In fact, the longer you have a business relationship with your mechanic, the more you'll be able to learn. Mechanics appreciate return business. If you can find a good mechanic who is willing to explain things, you've got a keeper.
They call or give written estimates before starting repairs
This is standard business practice for reputable places. But a female-friendly establishment will go a little beyond this. They won't try the hard sell or make you feel like you're being pressured to shell out money for something you don't quite understand. So it's as much about how they do this as what they do.
Clean waiting areas with restrooms you want to use
A female-friendly repair shop knows that little things like a clean waiting area are important to women. A nice waiting area, maybe with some fresh coffee and a place where the kids can color. And clean restrooms, yes! Clean restrooms go a long way. If a repair shop doesn't have these, you should probably pass them by. It shows they don't value their female clientele in the way they should.
Check out their facebook page
If you can (which means, if they've got one), check out the business' Facebook page. There are some interesting stories out there about auto repair shops that are now reaching out to their female market demographic through social media. These mechanics know that women don't think about car repair in the same way men do. And they know that women aren't going to just look at their business Facebook page, unless they give them a reason to be interested.
Therefore, another mark of a "female-friendly" auto repair business is if they have a Facebook page that is updated with content that appeals to people on levels higher than just car repairs. They reach out and engage their audience with interesting and helpful information on things like travel tips, traffic, commuting issues and car safety. An auto repair business that does that shows that it knows what its customers like. And that means they're more likely to know (and implement) what women value when they have to take their vehicle in for repairs.
You may be interested in these other posts:
This post was published on May 4, 2016 and was updated on August 2, 2022.