Remember how smooth your lawnmower ran when you first used it? Regular lawnmower maintenance will keep your mower in top running condition and will add years to its life. We have six easy tips for you to follow to keep your lawn mower running like new for years to come.
Oil: When you feel that your lawnmower has performed for a minimum of fifty hours it is a good idea to drain and replace the engine oil. Always remember to check your manual and refer to the specific oil recommendations.

Spark Plugs: It would be ideal to replace your spark plugs after approximately 100 hours of operation. Spark plugs can be located on the side of your mower but are usually located in the front. Spark plugs should be fairly simple to get out with a firm tug, you can use pliers if you are careful.

Air Filter: Be aware that after approximately 25 hours of operation your mower's air filter will need service to ensure that your engine is running smoothly. If the mower's air filter is dirty, the engine may not run properly. Remove the air filter cartridge and lightly tap it on a flat surface. If the filter is extremely dirty, replace it with a brand new one.

Blades: Lawnmower blades must be kept sharp; blades can be sharpened with a file or on a grinder wheel. Never attempt to sharpen the blade while it is on the mower. It is important to keep your blades balanced using special care to optimize the use of your lawnmower. An unbalanced blade will leave an uneven cut on the lawn and can eventually cause damage to the lawnmower or the engine.

Dirt: Clean dirt and debris from the engine air screen and the engine's cylinder fins. Ensuring that your engine air screen and engine's cylinder fins are clean will put less stress on your mower's engine and will operate more efficiently.

Consider a Fuel Additive: Using Bell Performance MIX-I-GO will facilitate in keeping your lawn mower running smoother and more efficient for years to come. Please see the update below.
Benefits to your lawnmower's small gas engine include:
- increased fuel performance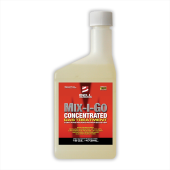 - removal of water that has accumulated
- prolonged engine life
- lubricated upper cylinder area
- removal of carbon deposits
- extended spark plug life
- reduced harmful emissions
- breakdown of gums and varnishes
With a little bit of routine maintenance, lawnmowers can provide years of reliable service and performance.
Bell Performance fixes your fuel! Check out Mix-I-Go and our other fuel treatment products at www.bellperformance.com.
Update 1/26/2011: Bell Performance is pleased

to announce MIX-I-GO SMALL ENGINE FORMULA. It is specially formulated for both two- and four-cycle engines, solving ethanol-related problems in gasoline engines for small equipment like riding and push lawn mowers, lawn edgers, chain saws, leaf blowers, stand-alone generators, and other types of small gasoline-powered equipment.
This post was published on July 29, 2010 and was updated on November 1, 2021.