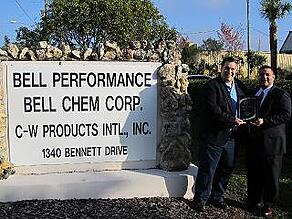 We try to limit the amount of promotion we do on the Bell Performance blog, but we did need to send a shout out to our own company president, Glenn Williams, who was honored by the City of Longwood (FL) as January 2013's Business Person of the Month. That's Glenn to our right, posing with City of Longwood's Mayor Joe Durso.
Bell Performance has actually been in Longwood for a lot longer than people think. Robert Bell moved his company from Virginia to the Orlando area in 1936 or 1937. It wasn't until the 1980s that the Bell company (then called Bell Additives) moved up the interstate to the little suburb of Longwood.
Longwood was always a sleepy little hamlet since its incorporation in the late 1800s. back then, this area of the state was mostly swamp land, and the only notable landmark in the area was a 165-foot tall cypress tree (The Senator) which was the biggest and oldest cypress tree in the world. The Seminole Indians used to use it as a landmark, and scientists think that it was about 3,500 years old, which would make it the 5th oldest tree on the entire planet. we say 'was', because in January 2013, the Senator burned down because of a fire set by a park night visitor who needed light to indulge in some methamphetine.
So when Bell moved to its current headquarters and manufacturing facility, there was nothing but cow pastures around. The main road through the town was a little 2-laner; now, it's a four lane state highway (Hwy 434) and being expanded further as we speak. Bell Performance has been happy to be a part of the community and to make Longwood, Florida a center for international export to over 15 different countries. Congratulations to our own Glenn Williams, the City of Longwood's Business Person of the Month for January 2013.
This post was published on February 14, 2013 and was updated on May 8, 2014.