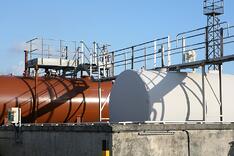 Tight national budgets have forced Congress to make some tough decisions (no snickering, please) and unfortunately some of those decisions have come down hard on the biodiesel industry, with Congress allowing the Biodiesel Tax Credit to expire at the beginning of the year.
For years, the biodiesel industry has relied on tax policy to support its profitability. We've said before that if anyone disputes whether tax policy influences behavior, they need to look no further than the biodiesel industry. When Congress approved a substantial tax credit for biodiesel production back in 2005 or 2006, the volume of biodiesel produced nationwide rose skyrocketed. Many biodiesel production plants have relied on taxpayer money simply to stay in business.
When Congress allowed the tax credit of $1 per gallon to expire in both 2010 and 2012, the effects on the industry were stark and apparent. And that's not the only thing Congress is leaning towards. The EPA has been debating the whole issue of reducing the volume of the Renewable Fuels Standard (RFS) - or rather, suggesting to Congress that it be reduced. Remember that Congress makes the fuels and agencies like the EPA enforce those rules. So the EPA can't order Congress to do anything, it's always the other way round. Anyways, if Congress lowers the RFS, it will shrink the market for the biodiesel producers and probably cause some of them to go out of business.
Biodiesel proponents are confident (or at least hopeful) that Congress will restore the tax credit some time this year like they did in the past.
Image Credit: fleetowner.com
This post was published on February 18, 2014 and was updated on April 13, 2021.