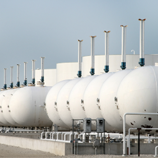 Water is the enemy of stored fuel, the tanks it's stored in, and the equipment that uses it.
Fuel storage rules that used to allow for "allowable" amounts of water now state "Zero Water Tolerance". And today's advance diesel equipment have little tolerance for fuel-borne water compared to the past.
Water = Microbes + Corrosion + Stability Issues = Big Problems For You.
But there's good news. Bell Fuel & Tank Services is on your side with a complete hybrid solution to neutralize water problems in your fuel and storage tanks.
Start with ASTM testing to assess the problem. Add mechanical water removal and finish with the best water controlling treatment to protect the fuel for when you need it.
Don't let water problems in your stored fuel take you by surprise. Bell Fuel & Tank Services is your solution.