To make your small engine - your lawnmower, snowblower, chain saw or lawn blower, ATV, generator - run at peak performance, there are few magic bullets. If you want the best performance from them, it's best to make sure you're on top of the regular maintenance recommended by the manufacturer.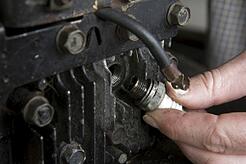 The other best practice you can do is to use a quality fuel treatment to make sure there are no fuel-related issues, especially when it comes to ethanol. That way, you've covered both sides of the possible equation.
1. It's best to use the grade of gasoline and oil recommended by the manufacturer
2. Always check the oil level prior to starting up.
3. Keep your gasoline fresh; as well as maintaining its potency, it will make your equipment easier to start (this is where the small engine fuel additive comes in).
4. Regularly clean the spark plug
5. Regularly check the air filter and clean/replace it as necessary
6. Check the tightness of all screws, nuts, and bolts
7. Check the integrity of the wheels, tighten and/or replace as necessary
8. On self-drive lawnmowers, have the drive mechanism serviced at regular intervals and ensure the drive belt is tight, and in good working order.
9. For all types of mower, keep the cutting blades sharp, and the underside of the machine clean and free from clumped dried earth and grass.
By carrying out regular maintenance as described above, you'll get the best performance out of your machine, whichever type it is. And you'll make sure it stays with you for as long as you want it to.
This post was published on May 23, 2013 and was updated on April 12, 2022.