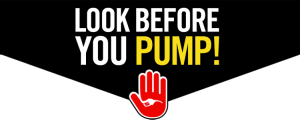 'Look Before You Pump' is the name for the educational campaign launched by the OPEI - the Outdoor Power Equipment Institute, designed to educate consumers on the dangers of misfueling their outdoor power and small equipment with the wrong kind of fuel. And by the wrong kind of fuel, they mean E15 - 15% ethanol-blend gasoline, for which no small engine equipment is approved to use. It's long been recognized that consumers are still confused about the differences in E10 vs E15, and there still remains a high degree of danger for consumers choosing the wrong kind of fuel to put into their equipment. The consumers that do make this key mistake run the mistake of destroying those expensive pieces of machinery.
Despite being couched as an educational campaign, the Look Before You Pump campaign has drawn the ire of the ethanol industry. Exactly why, we cannot say, but you would think they'd be in agreement that it's a good thing for consumers not to destroy expensive equipment with the wrong kind of fuel. Personnel like the president of the Renewable Fuels Association argue that it's not fair the OPEI would single out E15 when there are other fuels already available that run the same risk of misfueling. We think that's a bit of a moot point, as the dangers of E15 are getting more and more well known.
The OPEI isn't going along in this. They've gotten buyin from some pretty substantial players. Walmart and Lowe's support the program through in-store fliers and notices. True Value Hardware plans to highlight the campaign in its upcoming spring national advertising. And the DIY Network, produced by Scripps Broadcasting, is supporting the program through its social media reach, and also through messages delivered straight from their shows.
It's all done with the goal of making sure no one damages another piece of expensive small engine equipment from filling up with the wrong kind of fuel.
This post was published on April 10, 2014 and was updated on April 10, 2014.