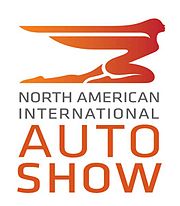 Happy North American International Auto Show!
Better known simply as the "Detroit Auto Show", it started January 13th and runs through January 26th. Besides being located right near the headquarters of the Big Three automakers, it's a big deal because it generates about $500 million in revenue for the local economy. And because there's always big and interesting news from the world of cars that breaks at the show.
The first couple days (Jan 13th and 14th) were taken up by press previews and briefings. So, besides the Chevy Silverado and Corvette being named North American Truck and Car of the Year, what cool news is being reported from the Show?
1. The trend towards integrating internet and technology is only speeding up, as more and more automakers add features that GPS tracking and integration with popular web sites - call it Better Connectivity. What this means for drivers is their new vehicles will be able to do things like offer suggestions on restaurants from Yelp, based on where the vehicle detects that it is.
2. Speaking of technology, the 2015 Hyundai Genesis will be the first car model that has active integration with Google Glass (you've heard of that, right?). While they say this won't encourage people to use Google Glass while driving, what it will do is give drivers a whole range of cool new abilities they can utilize right through their Glass system - lock and unlock their car, run vehicle diagnostics (how much gas do I have left?), visual navigation and visual point of interest searching.
3. Ford's new F-150 fullsize truck model features significantly more aluminum built into its body. Aluminum is lighter than steel, helping Ford take steps towards meeting the difficult fuel economy standard of over 50 mpg by 2025. Incorporating aluminum into the truck body saves about 700 lbs in weight, and vehicle weight is the biggest determiner of fuel consumption. The problem for Ford (and consumers) is that aluminum is harder to work with than steel, which means it costs more to make vehicles out of it. This will surely mean higher buying costs for future car and truck models.
4. Ford also unveiled a new Ecoboost engine technology that actually shuts the engine off when the vehicle is stopped, reducing wasted fuel from idling. The Ecoboost engine design will be available in 2.7L and 3.5L sizes. And for consumers worried that these new-fangled environmental changes are going to hurt performance, Ford claims that the 2.7L Ecoboost engine will deliver as much power as a mid-range V8.
5. New safety features are coming that will change the way people think about cars. Mercedes made a big announcement of a new feature of the C-Class model that allows the drivers to set a mode which causes the vehicle to automatically pace and follow a vehicle in front. We assume it also automatically brakes and reduces speed as it detects the distance with the vehicle in front.
This post was published on January 17, 2014 and was updated on October 17, 2014.