We've missed doing a blog for National Car Month the past couple of years, so here it is! National Car Month is the brainchild of the Car Care Council and AAA, which designate April of each year as the month to get the word out to car and truck owners.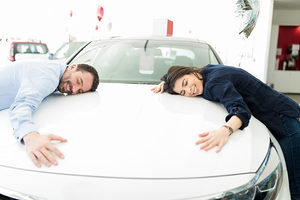 It just so happens that National Car Care Month is scheduled to fall just before the start of the summer driving season. The kids get out of school, people go on vacation, everyone just seems to drive more. So it's a great idea to take advantage of the wealth of information flooding the internet for National Car Care Month, all aimed at getting people like you ready for great driving experiences in the coming months.
National Car Care Month is an especially good time for women to crack the hood and dive into some basic car care. Women buy more than half of the cars out there every year (65% of the new ones). They're in charge of car care to a greater extent now than ever before. Many women feel unsure about their vehicles; they take them to the mechanic when something seems wrong but they don't feel confident that they're not being taken advantage.
Whether you're a woman or a man, if you've ever felt like this, then taking a crack at some basic car care during National Car Care Month is a great month to help you feel more comfortable in that regard. So here are some simple car care tips, in honor of National Car Care Month, to keep your car humming along in grand fashion.
Get Hands On With Belts & Hoses
These are essential to engine operation but aren't designed to last forever. And they will give out at the most inconvenient times. It's a good idea to check them. Tug on the belts to make sure they do not feel loose. Next, when the engine is warm but not hot, squeeze the radiator hoses. If they feel too soft, it may be time to replace them at your local ASE-certified trusted mechanic shop.
Tire Pressure Can Save You Money
Tires lose air gradually and it's easy to forget about them. Soft tires wear faster and lower your gas mileage, which is bad news when you're driving a lot more in the summer. Check your tire pressure when the tires are cold. It's a good idea to buy a pressure gauge for a couple bucks at the auto parts store. Your owner's manual and the sticker on the inside of the door will list what your tire pressure should be. If it's too low, fill it up accordingly. It's an easy way to boost gas mileage and save money going into the summer – up to 3% in many cases.
Clean Out Your Trunk
Another forgotten area, we tend to accumulate things in the trunk that add dead weight to the vehicle. The more dead weight, the more gas you're going to burn hauling around things you don't need. So get in there, clean it out and save yourself some money.
Change Your Oil
Like your dad always said (hopefully), don't forget to change your oil. You should already be following the instructions in your owner's manual that advises you on how often you need to change the oil. It's not 3,000 miles like the commercials try to make you think – it will be between 5,000 and 7,000 miles, depending on your driving patterns. Changing your oil as advised is the single best thing you can do to make your car last longer.
Access Other Available Resources
Groups like the Car Care Council and AAA have awesome free resources available to you anytime you want to look at them. We would recommend going to www.carcare.org, where you can register to have a personalized service schedule built for your vehicle. It will tell you what you need to have done and when, plus send you specific reminders when it's time. How cool is that?
Check out these other posts on Car Care:
This post was published on April 13, 2016 and was updated on April 13, 2016.