There's a funny scene in Tim Allen's Christmas classic movie The Santa Clause where Tim Allen as Scott Calvin (or Santa) talks about how he is known around the world ("name?" "Kris Kringle" "name?" "Sinterklaas" "Name!" "Pere Noel. Babbo Natale. Pelznickel.......Topo Gigio!")

Santa Claus is "exported" across the globe the world over. And while we're certainly not going to compare Mix-I-Go to Santa (what would happen to all our presents?), they do have it in common that they're both alive and well in multiple countries around the world.
Robert Bell's first international distributing agreement was with Mexico in 1947. Note the rather crinkled photograph that can still be found in the Bell archives. In the decades that followed, Mix-I-Go went to all continents - Asia, South America, Europe, the Far East, and even Australia!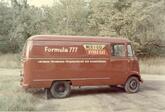 Today, Mix-I-Go is sold in 16 different countries. And as the world gets smaller and smaller through modern technology, that number will only increase!
But no matter if you're in China or Canada or here in the USA, everyone gets to enjoy the same great Mix-I-Go formulation.
This post was published on December 18, 2011 and was updated on April 12, 2022.