You might remember the story a few months ago that we commented on, about electric car maker Tesla being sued by the state of North Carolina (on behalf of its competition) because they didn't sell through dealer networks. One thing we noted was Tesla's commitment to making electric cars that have as good or superior quality and performance to the most expensive conventional cars you want to name. And hence the price tag of a Tesla electric car is not cheap - it pushes $80,000 - $100,000.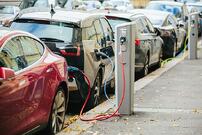 News broke last week that several significant electric models are seeing big price reductions. The Chevy Volt, GM's flagship electric model, is having its sticker price slashed by up to 12% compared to last year's models. So now you will only have to pay out $35,000 for a Volt. But you also get a $7,500 tax credit from the government if you buy an electric car, so that brings the starting price down to a far more palatable $27,000 or so.
One Price Cut Leads to Another
The price cut probably came in response to GM's competition, Ford and Nissan, cutting the sticker price of their own electric vehicles. Nissan announced a big price cut in January 2013 for the new Leaf S Series, which will be priced at about $29,000 (still $6,000 less than the price-cut Chevy Volt). You can then lop off the $7,500 federal tax credit and add in an additional $2,500 credit applied in some states (including California). And that means you can own a new Nissan Leaf S Series car for as little as $18,800.
Ford was quick to respond to Nissan's price cut, lowering the price on its own Focus EV model by $4,000. But that still leaves the Ford electric vehicle priced at $36,000, before applying the previously-mentioend tax incentives.
So it appears that market forces are at work here, with major automakers shoving each other out of the way to offer consumers big incentives to boost sales of what has been a pretty dismal market of electric cars. In 2012, Chevy was only selling about 1,600 Volts a month. Nissan was way behind even on that, sellng less than 600 a month.
The price cuts appears to be benefitting Nissan the most, and it's not even close. Sales of the Chevy Volt have stayed the same or even dropped - only 1,600 - 1,700 a month across the entire country. But Nissan Leaf sales have skyrocketed to where they're selling the same amount as Chevy is.
Lower prices on electric cars is definitely a great deal for consumers. We anticipate more and more consumers will cross the threshold and go electric.
This post was published on September 12, 2013 and was updated on June 4, 2021.