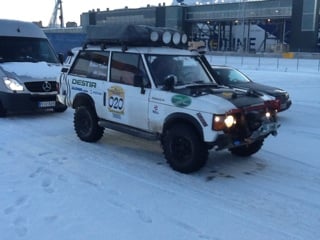 The largest amateur road rally in the world is the Budapest-Bamako annual race, spanning thousands of miles from Budapest, Hungary to Bamako, Mali.
It was started in 2005 by a Hungarian internet entrepeneur who wanted to give enthusiasts and fans a less expensive option than the famous Paris-Dakar rally.
Contestants travel south from Hungary and around the western rim of Africa to finish in the ancient kingdom of Mali. In the 2013 race just finished, 142 teams entered with 89 of them finishing the race.
Many of these teams participated for charity, raising money for worthy causes.
One of the teams was headed by Finnish drivers Rikhart Kilgast and Aki Jokinen. They took Bell Performance along for the ride, treating their touring vehicle with X-tra Lube oil treatment. They actually started their journey in Finland, driving all the way down to the starting point and proceeding from Hungary to Italy.
Unfortunately, before they transitioned from Italy to Africa, they discovered a previous repair had left them with a leaky camshaft gasket. X-tra Lube had gotten them this far but they decided not to risk making the rest of the trip. As Rikhard put it, "later we found out that if we would have had gone to Africa with this leak we would have end up in the Sahare with broken truck. And if someone of you dont know, here is a free advice, there is no towing company in sahara dunes that you may call and if someone does show up he can ask you pretty much all he wants to ask." They did manage to turn around and make it back up to Finland, which is itself pretty impressive considering how much oil they were leaking.
Thanks to Rikhard and Aki for taking us along for the ride. They've indicated that they plan to try again next year: "All I can say that the oil treatment worked and it took us back from Italy. Now we are fixing the truck and we will sell it and the money what we get will go to charity for children of West Africa. By any means we are not rich kids having fun on others money, we have hard earned the money that we spend for the trip. And next one is approaching us soon. We will complete Budapest Bamako! Beaten but not defeated!!"
Check out the official web site of the Budapest-Bamako rally.
This post was published on May 16, 2013 and was updated on December 3, 2013.