Reigning in fuel costs is always a primary goal for fleet managers trying to keep their collective heads above the fiscal waterline. It's in the best business interests for fleets to do this. State and local governments are now getting into the arena of helping both public and private fleets be greener and reduce fuel-related costs through funded programs like Ohio's Green Fleet Program, an initiative of the Ohio Green Fleets program.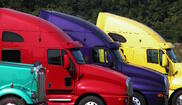 The primary directive these kinds of programs have is the reduction of fuel use. Reducing fuel use cuts fleet costs and reduces pollution of every kind. This is common sense to most, but sometimes this simple fact gets lost in the white noise and excess of information bombarding fleet professionals from all sides.
Fuel-savings strategies for fleets are a different ballgame than offering points to consumers on how to get better gas mileage or diesel mileage. The typical advice given to private drivers are points already routinely covered by fleets in the course of their own business – proper maintenance, checking tires, etc.
A primary strategy for fuel reduction for fleets is idling reduction. According to USDOE, diesel trucks waste over 800 million gallons of fuel per year without even moving. That's a lot of fuel budget dollars going up in the air without miles being logged.
Diesel operators idle out of habit and necessity. Some of this can be eliminated by policy and education. Understanding why a diesel vehicle is idling is the key to its effective elimination. For example, do vehicles idle overnight to keep operators comfortable and provide electrical power? If so, it may be cost-effective to provide auxiliary power units. Do vehicles idle in cold weather to warm engines and other systems? Engine pre-heaters may eliminate the need for this cause for idling. Do vehicles idle to operate bucket trucks and other peripheral equipment? Do operators idle to keep warm while waiting? Still other technologies offer solutions. Or does idling occur simply based on myth or habit. In these cases, operator behaviors have to be addressed, and there are resources like the EPA's Smartway program that address this effectively.
Combining idling reduction with equipment modifications (right-sizing vehicles, optimal maintenance), better driver education on best practices, and optimizing route planning for highest efficiency have led to huge savings in places like Colorado, which saw an 11.6% drop in fuel usage in just their first year of action.

Fuel additive companies come out of the woodwork when it comes to fleets. The fuel treatments that actually work have historical track records of successful use by fleets (and don't make wild claims about 20% mileage improvement because of "realigning the diesel molecules.")
Bell Performance has been helping fleets preserve fuel and maintenance budgets since 1957 with Dee-Zol multi-function diesel fuel treatment. Private and municipal fleets using Dee-Zol typically save 3-5% in fuel costs.
This post was published on October 20, 2020 and was updated on October 20, 2020.