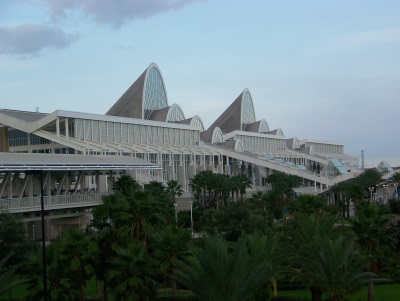 One good thing about Bell Performance being located in the Orlando area is that we get the best trade shows coming through our area. Maybe it's because of Disney. The Orange County Convention Center, where the largest shows are based, is the second largest convention center in the country (behind the one in Chicago). It has over 2 million square feet of meeting space and fills some of its power needs from solar panels installed on its roof. It's now been open for almost 15 years (it even served as a disaster relief staging area after Hurricane Charley) and a lot more trade shows are changing their regular destinations now to include some fun in the sun in Florida each year.
In December, the nation's largest power generation trade show – Power-Gen – will come to town to take advantage of everything our area has to offer. And, just as we have for the last 15 years or so, Bell Performance will be there. It's interesting to ponder how the industry has changed in that time period. A few big changes come to mind. The discovery and development of huge natural gas deposits in North America have caused a dramatic shift in fuel prices, making natural gas really cheap as compared to fuel oil. So a lot of powergen facilities have transitioned to natural gas, away from fuel oil. Bell Performance has treated a lot of fuel oil in the past with our ATX line of multifunction formulations, so while the shift to natural gas has been great for the country's energy outlook, it's meant fewer ATX powergen customers for us. Oh well, that's the way things work. Nothing stays the same forever. And we still export a lot of ATX to factories and industry in other parts of the world.
At the same time, the entrenchment of ultra-low sulfur diesel fuel has created other needs for fuel treatment. This is where power generation intersects with fleets and business. Taking the sulfur out of diesel has resulted in a boom in microbe growth in fuel storage tanks across the nation. So anyone, including power generation facilities, that stores diesel fuel is a potential target for this problem. And Bell Performance still has some excellent solutions to solve microbe problems in stored fuel, as well as fuel stabilizers that are essential for power generation and fuel storage facilities to use to keep fuel quality protected during long-term storage. So there are still plenty of areas that we can target to solve problems for power generation. And, really, not just power generation, but anyone who stores fuel – cites and municipalities, fleets, businesses of all sizes as well.
If you're going to be at Power-gen Orlando in December, stop by and say hi!
You may be interested in these posts on Power Generation:
This post was published on November 30, 2014 and was updated on November 30, 2014.