You likely know well that fuels are not what they used to be. It's easy to see that fuel – both gas and diesel – behaves differently than it used to.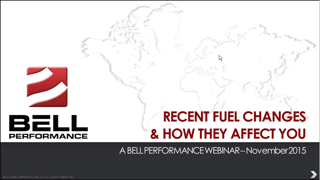 This means different things to different people, and it depends on where they're at. Not what state they're in (unless it's a state of shock, of course) but whether they're a fuel storage professional, a fleet manager, small business owner, or a homeowner who owns a minivan plus a Honda Accord plus a lawn mower.
The fact that fuels have changed shows up as different problems for each of these people. But the commonality with them is they all pay some kind of cost and they all want solutions to fix the pain of the problem.
Back on November 16th, Bell Performance hosted a free webinar on Recent Changes In Fuel & How They Affect You.
This is the first in an ongoing series of free webinars we'll be hosting for the benefit of our friends and partners who are out there in the field, fighting the good fight every day.
Over the webinar's 45 minutes, we talked about some of the major changes that have happened to the fuels we use – why those changes came about, how those changes affected fuel and what they looks like to all the types of people who use that fuel, and lastly, we reviewed some of the best practices that industry professionals recommend to minimize the effects of those problems.
Because we know a lot of our blog readers may have missed the webinar, we're making a copy of it available for download here at the Bell web site.
Better yet, why not download a copy and let us know what you'd like to know about in future webinars that we put together?
This post was published on November 24, 2015 and was updated on March 31, 2017.