Bellicide Biocide for Diesel, Biodiesel, Heating Oil, Gasoline and Other Finished Fuels. Kills microbes completely within 2 hours and keeps killing fuel-borne microbes for up to 4 weeks!
With fuel prices rising at faster rates than ever, it is more important than ever to protect the investment of both stored fuels and the equipment they go in.
Unfortunately, stored fuels tend to development water accumulation, which leads to the growth and flourishing of harmful microbes.
Microbial contamination in a fuel tank is bad news because the microbes (bacteria and fungi) break down the fuel, ruining expensive fuel investments.
Microbial colonies plug fuel filters
Microbes gives off acidic byproducts which destroy fuel quality
Microbial byproducts contribute to expensive tank corrosion
Not only that, but once they are in fuel tanks, microbes are nearly impossible to get rid of. Simply removing accumulated water is not usually enough to solve the problem. Until now!
Product Overview:
BELLICIDE eliminates and prevents the growth of bacteria and fungi in finished fuels, while preventing their biodegradation. BELLICIDE is essential for keeping stored fuels fresh and microbe-free!
Product Details:
BELLICIDE is used to eliminate and prevent the growth of bacteria and fungi (microbes) in finished fuels such as diesel, biodiesel, gasoline and Bunker C fuel oil. BELLICIDE is also used to prevent the biodegradation (reduction of fuel quality caused by microbes) of crude, refined and feedstock oils and fats (e.g. poultry, soybean, aromatic, paraffinic, naphthenic) during storage.
Benefits:
BELLICIDE's proprietary formula knocks out microbial fuel problems:
Broad spectrum: kills bacteria, fungi and algae
Active in both phases of the system - partitions into both fuel and water
Fast Acting: 100% bacterial kill in just two hours
Long Lasting: Maintains a 100% kill rate for up to four weeks
Fully combustible
Comparative Testing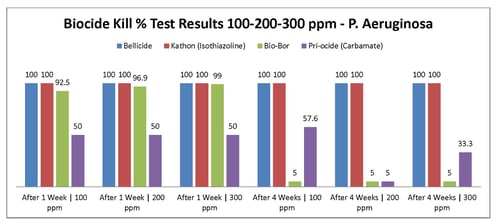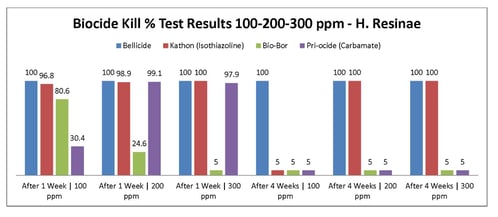 The microorganisms used in the study were the bacterium Pseudomonas aeruginosa, and the fungus Hormoconis resinae, both of which are widely found in fuel, grow easily in large numbers, and reproduce well both in water and at the fuel-water interface.
The results of the study show BELLICIDE provided the best protection with the most complete kill rate over a 4 week period. In fact, Bellicide well outperformed both Bio-Bor JF, Aquatreat DNM-30 and Pri-ocide in provided long-lasting kill protection.
Confused about biocide choices? Check out how Bellicide compares to other choices in the market.
Treat Rates
BELLICIDE eliminates existing microbial colonies in contaminated systems with a treat rate of just 2.5 fluid ounces per 100 gallons of fuel (200 ppm) or half an ounce per 20 gallons of fuel.
To maintain a microbe-free system environment (maintenance dosage), BELLICIDE can be added at a treat rate of just 1.25 fluid ounces per 100 gallons of fuel (100 ppm) or half an ounce per 40 gallons of fuel. At the maintenance dose of 1.25 ounce per 100 gallons, BELLICIDE imparts a minimum amount of sulfur and is approved for use in ultra-low sulfur diesel applications.
Product Sizes and Packaging
BELLICIDE
is available in:
cases of twelve 16-oz bottles,

cases of four 1-gallon jugs, and

55-gallon drums.
Due to shipping regulations, for 16-oz and 1-gallon bottles, BELLICIDE is only sold by the full case quantity
Ordering Information
Due to shipping regulations, Bellicide is not available to order on-line through the Bell Performance Web Site.
---
Please call the Bell Performance Sales Office at 1-877-231-6673 or fill out the form to the right for pricing, ordering and shipping information. Certain restrictions apply.