What is the World's Best Grease? Many can try to make that claim, but when the dust settles and the facts are in, only one winner remains on top – Bell Performance X-tra Lube Grease!
Bell Performance X-tra Lube Grease is the only grease on the market that combines Bell's superior MBL lubricating technology with a high quality broad spectrum lithium grease base. The result is heavy duty lubrication, with extreme pressure and long-lasting resilience that beats all the other pretenders to the crown, hands down.
The World's Best Grease? Bell Performance X-tra Lube Grease. End of story.
THE POWER OF MBL TECHNOLOGY

The heart of X-tra Lube Grease's superior lubricating power is Bell Performance's MBL technology - the same revolutionary lubrication technlogy found in Bell's X-tra Lube line of oil treatments.
X-tra Lube Grease's MBL technology fills scratches, voids and imperfections in the sliding metal surfaces where the grease is applied. No other grease can match the superior lubrication that MBL's copper and lead particles provide as they settle into the scratch and scores and worn areas, repairing previous wear and making copper & lead-coated surfaces that slide against each other.
The result? Dramatic results in the areas of wear reduction, reduced operating temperatures and extension of equipment life.
THE BEST RESIDUAL GREASE PROTECTION ON THE MARKET

For cold start protection and essential residual lubrication, X-tra Lube Grease gives the most superior protection against catastrophic metal failure in cases where the base oil lubrication of lesser lithium and other types of greases typically fail.
Even in extreme conditions where heat and pressure might burn and destroy conventional greases (with costly results for the equipment), X-tra Lube Grease keeps working and protecting against friction and wear, to protect the valuable equipment and applications that need to be protected by grease lubrication.
Unlike chemical compounds like "esters" and chlorinated paraffins that claim to mimic what X-tra Lube Grease does in reality, the MBL copper and lead particles are immune to the most extreme heat and pressure. The continued residual lubrication protection provided by X-tra Lube Grease cannot be beaten by any grease, anywhere.
SUPERIOR PROTECTION
X-tra Lube Grease demonstrates superior protection in the most extreme situations where the best protection isn't just preferred, it's demanded.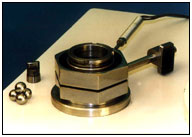 X-tra Lube Grease far outperforms conventional lithium greases in wear testing such as the Four Ball EP Load Wear Index (ASTM D 2596), which demonstrates how well grease protects and lubricates under increasing pressure and time.
Lower-quality lithium greases can fail in as little as 300 kg, with Load Wear Index ratings in the 40s. X-tra Lube Grease exceeds 500 kg and 90 on the Load Wear Index rating, providing another demonstration of X-tra Lube Grease's superior protection.
X-tra Lube Grease Specifications
TEST METHOD

DESCRIPTION

SPECIFICATIONS

NLGI GRADE

2

ASTM D 217

CONE PENETRATION @ 77 F, WORKED 60 STROKES

260-270

ASTM D 128

THICKENER TYPE

LITHIUM COMPLEX

ASTM D 128

THICKENER CONTENT, %

12-15

ASTM D 2265

DROPPING POINT, F

370 DEG F MIN

ASTM D 445

BASE OIL VISCOSITY

CST @ 40 DEG F

100-125

ASTM D 2270

VISCOSITY INDEX

95 MIN

VISUAL

COLOR

GRAY

VISUAL

APPEARANCE

SMOOTH/SLIGHT TACK

ASTM D 942

OXIDATION LOSS PSI/500 HRS., MAX

10

ASTM D 1743

RUST PREVENTION (COPPER CORROSION)

1B

ASTM D 2509

TIMKEN OK LOAD

45 MIN

ASTM D 2596

FOUR BALL EP LOAD WEAR INDEX, KG

93.5

ASTM D 2596

FOUR BALL EP WELD PT, KG

500
DON'T SETTLE FOR BARGAIN GREASES
Cheap lithium greases are a dime a dozen on auto parts and hardware store shelves. Don't make the mistake of thinking all of these greases are the same.
One tube of X-tra Lube Grease will outlast multiple tubes of bargain grease, with superior results.
You put a lot of time and money into your equipment. Don't short change it with ordinary bargain greases. Get the world's best protection with The World's Best Grease - X-tra Lube Grease.