Oil Sludge Remover for Cleaner Oil Changes and Longer Engine Life
The older your vehicle, the more likely you have some amount of oil sludge building up in your oil sump.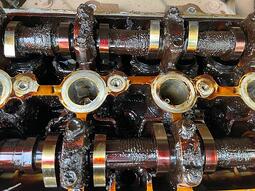 Oil sludge is one of the most costly problems facing car owners today. More advanced engine designs often result in unexpected problems that cause sludge to build up in the engine's oil system. The sludge is particularly dangerous on screens or in small passages, where it could cause a clog that prevents oil from reaching critical areas. When this happens, severe engine damage is inevitable.
To put it another way, sludge builds up in the engine, plug oil return passages and actually soaks up fresh oil as it goes, cutting down on lubrication where its needed most in the engine. Over time the sludge can harden and crystallize with heat. At this point, your engine is as good as dead.
What Leads To Engine Sludge Buildup?
Going too long between oil changes is a very common cause. Has anyone ever done that? Yes? No surprises there.
Oil sludge can also be the result of a mechanical problem like coolant leakage into the oil. This alone is a problem that warrants repair.
Engine Flush - The Convenient Easy Answer to an Expensive Problem
BELL PERFORMANCE ENGINE FLUSH can remove sludge from the your vehicle's lubricating system in a simple 5-minute process. It is an oil cleaner that promotes cleaner lubrication and longer engine life in both gasoline and diesel engines.
Don't pay a quick lube oil change shop $30 or $40 for a "sludge cleaner". Use BELL PERFORMANCE ENGINE FLUSH ENGINE FLUSH and know it's been done right.