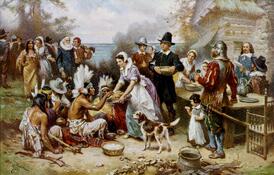 The United States was the first nation in the world to designate a national holiday centered around the notion of people being thankful for what they had. The traditional story of Thanksgiving had the Pilgrims in Massachussetts sharing a feast with the local Indians to celebrate the bounty of what they had in the New World.
Thanksgiving Fun Facts
Did you know that the menu at the first Thanksgiving meal had lobster, rabbit, chicken, fish, squashes, beans, chestnuts, hickory nuts, onions, leeks, dried fruits, maple syrup and honey, radishes, cabbage, carrots, eggs, and goat cheese?
Did you know that Sarah Josepha Hale, the magazine editor who persuaded Abraham Lincoln to declare Thanksgiving a national holiday, is also the author of the popular nursery rhyme "Mary Had a Little Lamb"?
Did you know the heaviest turkey ever raised weighed 86 pounds and was as big as a large dog?
Have You Seen The New Bell Web Site?
If you visit www.bellperformance.com, you'll see that our web site has been completed redesigned. The look is cleaner and information is easier to find. Our goal was to make your web experience at the Bell Performance web site better and to help you find what you need faster. We hope you like it!
Cyber Monday!
Last year, people really enjoyed the web special we rolled out for Black Friday and Cyber Monday Weekend. So this year we figured, why not do it again? Buy 2 Get 1 Free is available today, Cyber Monday.
That's Buy 2 Get 1 Free on all web orders placed at the Bell Performance web site. if you've been waiting for a deal, this is the one you've been waiting for.
Just go to the Bell Performance Web Store to advantage of the Buy 2 Get 1 Free special for Cyber Monday.
This post was published on December 2, 2013 and was updated on January 22, 2016.