Normally, we aim to keep the Bell blog solely devoted to the serious issues of fuel problems and solutions, as well as useful solutions that make your life easier.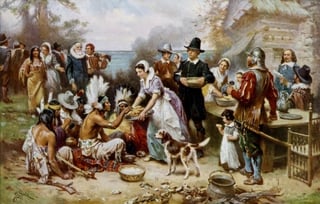 This is Thanksgiving week, which means Black Friday is coming up. So we figured to lighten things up a little bit with some fun facts and trivia about the greatest day on the American Capitalists' calendar, Black Friday. Let's call it the Did You Knows About Black Friday. Hope you enjoy.
Did You Know….Black Friday Doesn't Refer To Dad's Mood When Mom Drags Him Out Of Bed Early
Some people think Black Friday was coined to mean some kind of exceptionally busy shopping day, like "it's a black Friday when I have to battle traffic and hordes of crazy people". The very first recorded use of the term was in the journal Factory Management and Maintenance to refer to the practice of factory workers calling in sick so they could enjoy a 4-day weekend. Our current understanding of the day started in the 1960s because the day after Thanksgiving came to be recognized by businesses and retail as the day in which their balance sheets usually flipped from negative (red) to positive (black).
Did You Know….The Number of Black Friday Shoppers Has Almost Doubled In The Last Ten Years
The National Retail Federation started surveying Thanksgiving Weekend shoppers back in 2005. Their first survey indicated there were 132 million shoppers hitting the stores. Just ten years later (2014), that figure was up by 100 million to 233 million.
Did You Know….More People Hit Walmart On Thanksgiving Day Than Go To Disney World
And we meant more people than go to the world's most popular vacation destination for the entire year, not just the same day. 22 million people hit up Walmart on Thanksgiving. Guess they all forgot cranberry sauce.
There are other cool facts about Black Friday……Google tells us that web search traffic for the term 'Black Friday' usually starts increasing around October 14th.
Celebrating On Black Friday November 25th
Black Friday 2016 falls on November 25th. That means that we have to say happy birthday to esteemed celebrants Jaleel White (Steve Urkel), Tim Pawlenty (former Governor of Minnesota) and Bill Nye The Science Guy.
If they were still alive, we would also say happy birthday to Bruce Lee (1940), Jimi Hendrix (1942) and James Avery (Uncle Phil from the Fresh Prince of Bel Air)(1945), who all were born on November 25th.
You Can Celebrate On Black Friday, Too
Since everyone looks for deals on Black Friday, we couldn't let the opportunity pass without our own. It's the one time of year we try to give you a really special deal on the Bell Performance fuel treatments you know and love. So here it is. Visit the Bell Performance Web Store and get 25% off anything at the store, simply by using the coupon code BLACKFRIDAY2016 when you check out. And as always, if you stock up and order more than $100, you get free shipping, too.
So don't miss your chance to take advantage of the year's best deal. 25% off at the Bell Performance Web Store. Just use the code BLACKFRIDAY2016.
This post was published on November 23, 2016 and was updated on November 23, 2016.