Later this week, thousands of freedom-loving people will converge on Daytona Beach, Florida for "Biketoberfest". The bi-annual celebration of all things motorcycles provides the perfect forum for motorcycle enthusiasts to get together and celebrate life. Daytona Beach actually hosts Bike Week celebrations twice a year, with the first event scheduled each year in March. Each event is estimated to pump over $300 million into the Florida economy.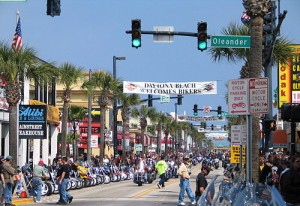 There's something almost uniquely American about motorcycles. Riders will tell you that it's the freedom of the open road; the feeling of the wind in your hair and being out in the open. It's just fortunate that Florida has such great weather to enable us to enjoy the open road almost year round, and to gather in the late fall for fun and fellowship in such an iconic place in American history as Daytona Beach.
Harley Davidsons make up perhaps 90% of the motorcycles seen during both Bike Week and Biketobefest. Harleys, like Daytona, are an American icon, known around the world. It would be hard to imagine a Harley Davidson not made in America (though they have expanded to other countries like India). When you think of mom, apple pie, baseball and other things that define America, Harley Davidson is definitely in the group.
Bell Performance has been treating and protecting motorcycles for almost as long as they've been around. And like Harley Davidson, Bell Performance is made in America, too! While Bell Performance is known for exporting to sixteen different countries around the world, it is American drivers and motorcycle riders who have participated the most in a mutual relationship with Bell Performance that spans back almost as far back as Harley Davidson itself.
If you're attending Biketoberfest this week, enjoy the sunshine and the freedom. Don't miss the big biker parade while you're there. And why not head down I-4 for 40 minutes and drop in to pay Bell Performance a visit? Bell Performance would love to hear from bikers, whether you've been a loyal Bell customer (Mix-I-Go has always been great for motorcycles) or just a future one.
This post was published on October 11, 2011 and was updated on February 17, 2016.