At Bell Performance, the theme for the month of July is Freedom and Independence!
July 4th means Independence Day, a time to remember the founding of our country. Here at Bell Performance, July 4th is Founders Day, when we remember the man Robert J. Bell and the impact he made.
July 4th means so much to so many people. It means the founding of this great country, where the opportunities to succeed and the freedom to do so exceed anywhere else on earth. The best thing about our great country is the idea that an individual can take an idea and develop it and succeed beyond their wildest dreams.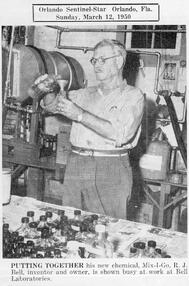 Robert J. Bell took full advantage of this opportunity afforded him. In 1909, Robert Bell had an idea and saw an opportunity and ran with it. The Bell Performance company still here today is the end result of the brilliance of Robert Bell's ideas and talents combined with the environment and conditions to succeed that make the United States unique in the world.
July 4th also jogs us to remember the men and women who went before us in history, sacrificing over and beyond the call of duty, up to the ultimate sacrifice in order to create the country that we enjoy today. The trials and sacrifices of the patriots who lost their families, their homes and lands and for some, their lives, because they believed in a revolutionary concept that people had the right to life, liberty and the pursuit of happiness. The hard work and labor of immigrants who toiled to build the railroads and the Erie Canal and the infrastructure that enables us to live the way we do today.
This month, we at Bell Performance celebrate all of these people. Bell Performance products like Mix-I-Go, Marine MXO and Mix-I-Go Small Engine Formula are all about freedom, too – giving consumers freedom from ethanol problems and giving those consumers back more than they paid. Bell Performance is an American success story – not many companies can say they've been in business for 101 years and counting.
Come celebrate the American Dream with Bell Performance!
This post was published on July 1, 2011 and was updated on November 19, 2013.