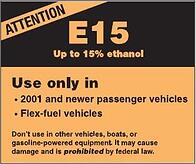 This was somewhat of a bombshell here, and word on this issue has been spreading into large mainstream outlets like USA Today (Gannett) and Fox News over the last month. On November 30th, the nation's largest auto group AAA (you know them) issued a policy statement recommending that consumers not use the new 15% ethanol fuel known nationally as E15. And virtually all of the major auto makers like Ford and Honda are now telling drivers that if they use E15, their warranties are voided.
AAA, in its position, cited a lack of extensive research into E15's effects on the health of vehicle fuel systems and emissions systems. This is in direct contradiction to both what the government says (the EPA says E15 is safe for use in vehicles made after 2001) and ethanol groups like the Renewable Fuels Association (CEO Bob Dineen basically echoes the EPA's line). AAA further went on to issue a written statement declaring that they think the EPA and gasoline retailers should completely halt the sale of E15 because "there is a strong possibility that mahy may improperly fill up using this gasoline and damage their vehicle."
Many Auto Makers Now Saying They Won't Cover E15 Damage
This is the other nuance of the issue that really hits home for drivers. AAA cites that just 12 million vehicles on the road, less than 5%, really have the manufacturers approval to use E15. As AAA cited that, outlets like USA Today picked up on that and further broke the news that ten of the major auto makers have come out and declared that they will not cover any E15 damage, and therefore using E15 will void the vehicle warranty. If you have a vehicle from one of these makers, this means you:
BMW
Chrysler
Nissan
Toyota
Volkswagon
Ford
Honda
Mercedes
Volvo
Kia
I guess this means General Motors is hedging their bets and waiting to see what else happens on the issue before falling in line with the rest of them. We do know that 2012 and 2013 GM vehicles do have approval to use E15, but that means all the GM vehicles before that do not. 2013 Ford vehicles have the approval, but again, all the Fords before 2013 do not. Porsche is perhaps the auto maker most in love with E15, as they've approved it for use in their vehicles since 2001.
What's The Consumer To Do?
Even the gasoline retailers are chiming in on the issue. A spokesman for the National Association of Convenience Stores talked about his group's feelings that, while the EPA says E15 is ok, the uncertainty around whether they've actually gotten it right with respect to vehicle safety is making a lot of their members very uneasy and reticent to sell E15.
Right now E15 is pretty dominant in at least 10 states and spreading. So what should you do? If you're in that 95%+ of vehicles for which E15 isn't approved, you'd better pay attention at the pump so you don't mistakenly put it in your vehicle. As a rule, we at Bell Performance always recommend adding a fuel additive like Ethanol Defense or Mix-I-Go to reduce the possibility of ethanol-related problems that all these groups are so concerned about.
For more info, see our second blog post on the issue: More Talk on E15 Warranty Issues
This post was published on January 4, 2013 and was updated on January 27, 2014.