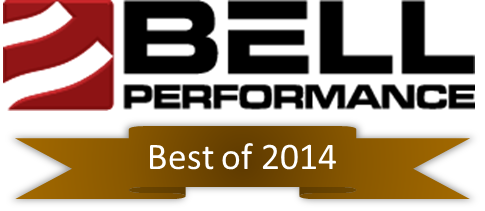 2014 marks the fourth year that we've been published posts at the Bell Performance Blog. And so, for the fourth time, we're going to wrap up the year that was with a rundown of the most popular topics for the year. And there were a lot of them, as over 250,000 individual posts were read in 2014. That's more than 3x what we saw in 2013 (77,199 views) and almost 8x times the traffic of two years ago (36,767 reads in 2012).
But enough about that. We want to talk about what you, the public, found most interesting for the year. The most read post for the entire year was one we published back in June of 2013 on Diesel Engine Problems: Black Smoke Explained. That one was read over 44,000 times just in 2014. After that, the most popular posts were on Which Engine Oil Additive Is Best and The 7 Must-Knows For Getting Rid Of Water In Diesel, both with more than 20,000 reads for the year.
However, what we're most interested in are the new posts for 2014 that you seemed to like the most. So we'll start the countdown of the Top Ten For 2014 with numbers 10 through 6 today. We'll follow up with the top five closer to New Year's Day.
#10 – The Fast & The Furious (Finland Style) – we were really happy to see so many people read about our Finn-Drift friends from Scandinavia – "drift racing" enthusiasts who have an excellent series of youtube videos on their worldwide adventures.
#9 – Ways To Make Your Car Last Forever – the blogs from earlier in the year tend to make the top 10 because they've had more time for people to find them. This one bucked the trend, cracking our top 10 despite being published in September. And it's not surprising. Everyone can benefit from simple tips on extending the life of their current car or truck.
#8 – How To Protect Your Classic Car From Modern Ethanol Fuel Problems – the introduction of ethanol into the nation's gasoline has created a problem for classic car owners. They pay big bucks for expensive cars and don't want to take any chances with the gas they use.
#7 – How To Thaw Frozen Gas Lines In A Car – it gets cold in January, so when we published this one, people took notice. A frozen gas line is no laughing matter, and if you don't know what to do about it, it can become a real headache.
#6 – Tips For Choosing The Best Motor Oil For Your Car – not surprising that this one made the top 10. Classic car owners were interested in our discussion about some of the options available, even as motor oil changes with the removal of certain components that used to give added protection.
Stay tuned later in the week as we finish with the Top 5 for the year.
This post was published on December 30, 2014 and was updated on December 30, 2014.